This is the layout of a 300t/h aggregate crushing production line, including the loading platform area, warehouse area, central control room, production area, living area, office area, and finished material area.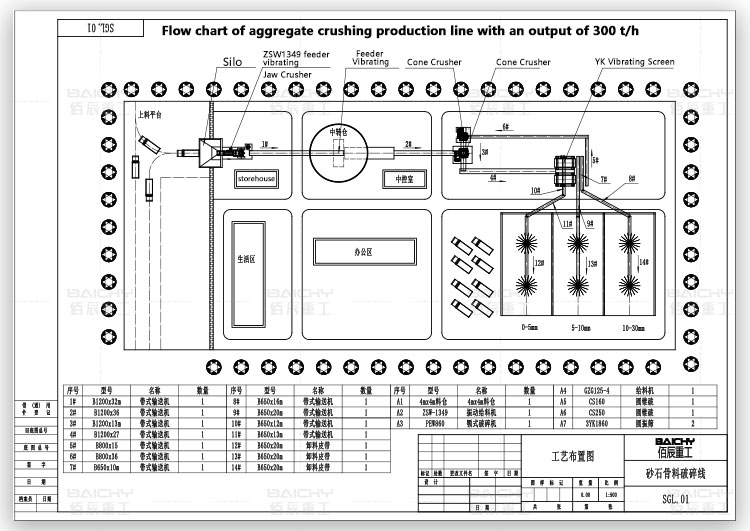 Process Configuration Instructions
The primary crushing equipment adopts the PEW European jaw crusher PEW860, a capacity of 200~500t/h, the power of 132~160kw, and the feeding device is equipped with the ZSW1349 vibrating feeder, which evenly conveys the raw materials to the European jaw crusher for primary crushing.
Due to the relatively large output, the finished materials are prone to accumulation. Therefore, a transfer silo is configured between the primary crushing and the secondary crushing. The feeding pressure can be relieved through the transfer silo to ensure the normal operation of the secondary crushing.
The secondary crushing adopts two sets of cone crusher CS250 installed in parallel, a production capacity of 258-417t/h, which can alleviate the return material on the vibrating screen; The 3YK1860 vibrating screen is used as screening equipment, and then the finished product is transported to the material pile through the belt conveyor.
Baichy Service
In this flow chart, Baichy has made a very detailed process configuration table. Of course, different crushing equipment may be used for raw materials that cannot be used. We will choose different outputs according to the different requirements of customers. In a word, if you are looking for a good crushing equipment supply, you can choose us, we provide one-stop service and free process design.
The following is the crushing site of our customers, with advanced technology, simple operation, and great savings in labor costs.