The tire-type mobile crushing station is a series of rock and construction waste crushing equipment developed and launched by Baichen Company. Its appearance greatly expands the concept of crushing operations. Its design concept eliminates the obstacles of crushing site, environment, complicated basic configuration, and complicated logistics to customers' crushing operations, and indeed provides customers with hardware facilities for efficient and low-cost project operation.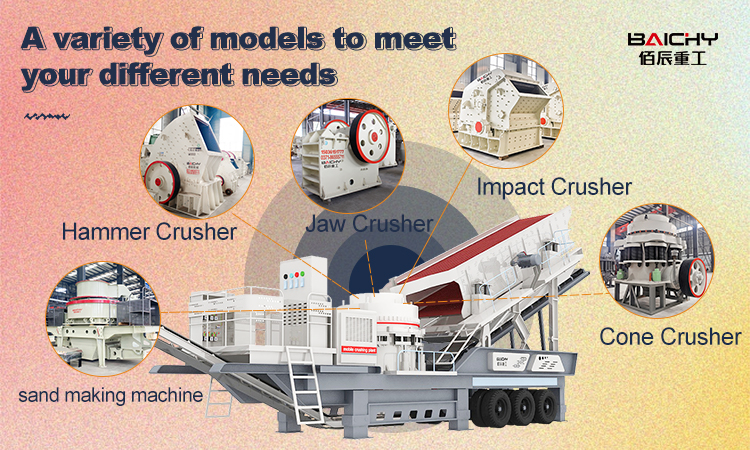 The tire mobile crushing station is widely used in mine ore crushing, construction waste recycling, construction aggregate production, highway, railway, road, and bridge construction, and other industries.
Widely used in the crushing of hard rock materials and ore materials, such as granite, basalt, diabase, shale, sandstone, quartz, river pebbles, limestone, iron ore, copper ore, manganese ore, coal gangue, non-ferrous metals Ore, pebbles, etc.
Product advantages
Flexible and flexible combination
Vehicle-mounted traction, compact structure, stable and sturdy, so that the crushing station can meet the mobility requirements no matter on the work site or on the road; the model can be quickly combined with other models to meet the different needs of production operations.
The operation effect directly and effectively reduces the cost of material transportation
The combined operation of each model can crush the materials on site. After crushing and screening, the finished materials can directly meet the customer's requirements. It also eliminates the intermediate link of transporting the materials away from the work site and then crushing them, which greatly reduces the transportation cost of materials.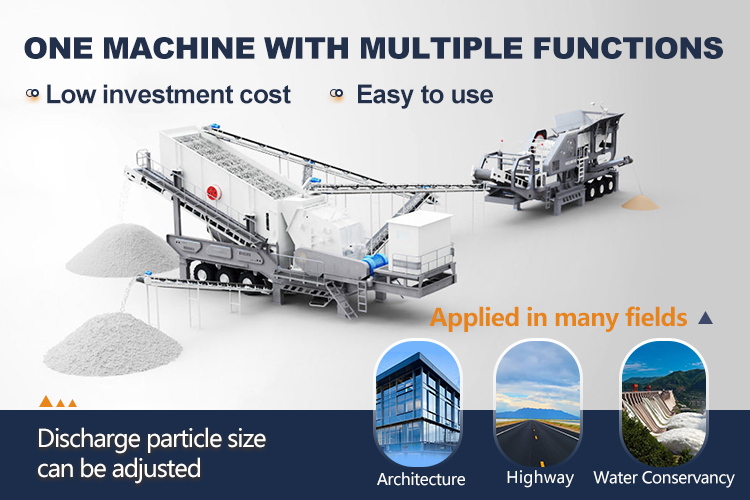 Strong adaptability to demand
The crushing station can be equipped with an independent generator set. Even if the local power grid cannot be used, the machine can still work normally. At the same time, our company can customize the mobile crushing station according to the customer's site, material, grain size, and other requirements.
Reliable performance and easy maintenance
The mobile crushing station adopts our company's excellent crusher, vibrating screen, and feeder, with stable and reliable quality; based on our company's many years of mobile crushing station manufacturing experience, the crushing station has mature technology, simple operation, and convenient maintenance.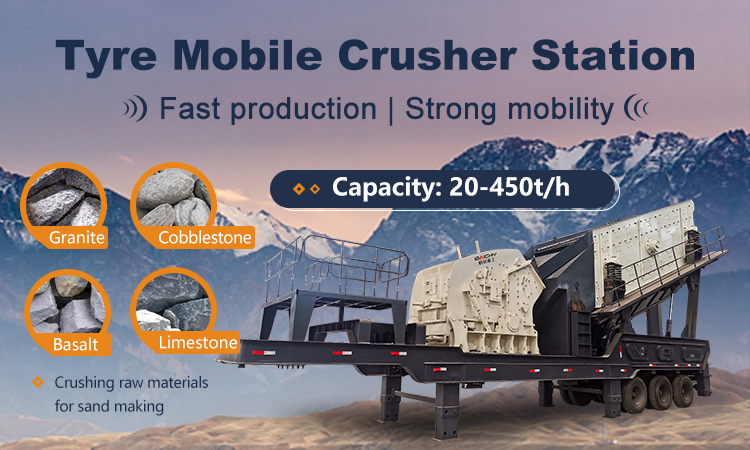 working principle
The main crushing equipment of the tire mobile crushing station is a crusher (jaw crusher, impact crusher, cone crusher, and impact crusher can be selected). In the future, a closed-circuit system will be formed by a circular vibrating screen to realize the cyclic crushing of materials, and the materials that meet the particle size requirements will be output by the conveyor, so as to achieve the purpose of production. The mobile crushing station can also remove the circular vibrating screen according to the actual production needs, and directly crush the material initially, and then cooperate with other crushing equipment for specific operations, which is convenient and flexible.