The mobile jaw crusher plant is one kind of mobile rock crusher, which greatly expands the concept field of primary crushing. Its design purpose is to stand in the customer's position, to remove the obstacles of crushing site and environment to customers' crushing operations as a solution, and to provide customers with low-input project operation hardware facilities.
Mobile jaw crusher is heavy-duty crushers for crushing hard stone in mining, crushing, mineral, and construction waste recycling fields. It integrates the feeder, jaw crusher, belt conveyor, and control system to solve site infrastructure effectively.
A mobile jaw crusher can crush over 120 rocks, such as limestone, granite, quartz, basalt, river stone, gold ore, iron ore, coal, gravel, aggregate, etc. Different final output sizes could meet your different needs.
A mobile jaw crushing station is mainly composed of a motor, jaw crusher, vibrating feeder, folding belt conveyor, feeder bracket, and so on. If you want to process 20-40t materials, it is enough to choose a PE400×600 jaw crusher and ZSW650×2500 vibrating feeder.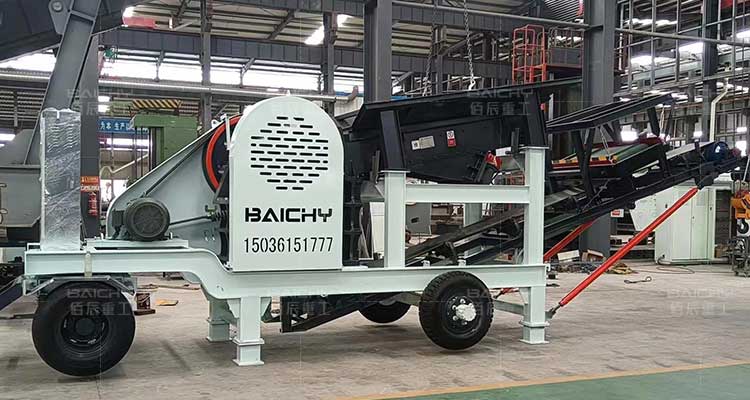 Features of mobile jaw crusher plant:
1. Integrated structure design: It can independently complete various works such as feeding, crushing, and conveying of materials, with flexible adaptability, a large processing capacity of materials, and high output.
2. Low investment cost and flexible operation: The turning radius of the mobile plant is designed to be relatively small, and the mobile plant can move flexibly to save the transportation cost of materials and reduce the production cost.
3. Configuration diversity: According to the different production requirements of customers, the mobile station can be operated by a single machine or configured with multiple devices for joint operation.
4. Strong mobility and environmental protection: The mobile plant has low requirements on the operation site and can be moved to any site for processing and production during the operation. It can also ensure green production.