Ball mill is the important grinding equipment after the material coarse-crushed, which is widely used for cement, silicate produce, new type building material, chemical fertilizer, black and non-ferrous metal glass, ceramic, etc. It also can be used for dry and wet grinding for all kinds of ores. Ball mill is divided into a single chamber, two chambers, and multi--chambers according to the materials and fineness.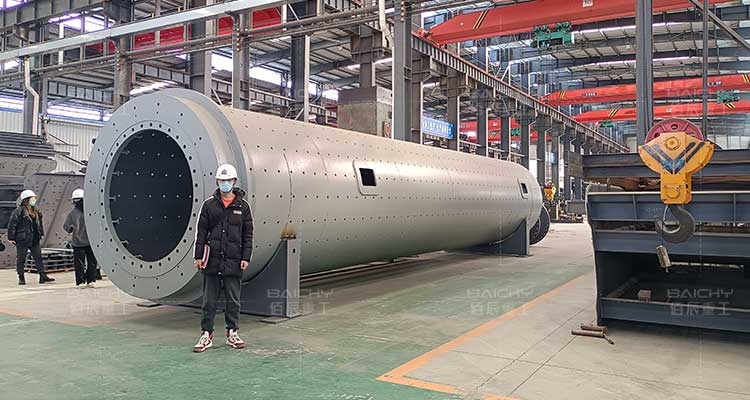 A ball mill puts many steel balls in a drum to grind the materials between balls and the drum inner wall as the drum rotates. This mill is capable of grinding lumps whose size is tens of millimeters into a product tens of microns or even several microns. The ball mill can grind various materials such as fly ash, calcite, cement clinker, dolomite, clay, coal gangue, barite, gypsum, etc. According to different materials, you can choose the dry or wet ball mill.
The processing capacity of the ball mill is 0.65-180t/h, and the fineness of the finished product can reach 25-200 mesh.
The product structure of the ball mill: motor, gear, large ring gear, reducer, drive seat, base, bracket, feeder, feeding screw, slate, and cylinder.
How does the ball mill work?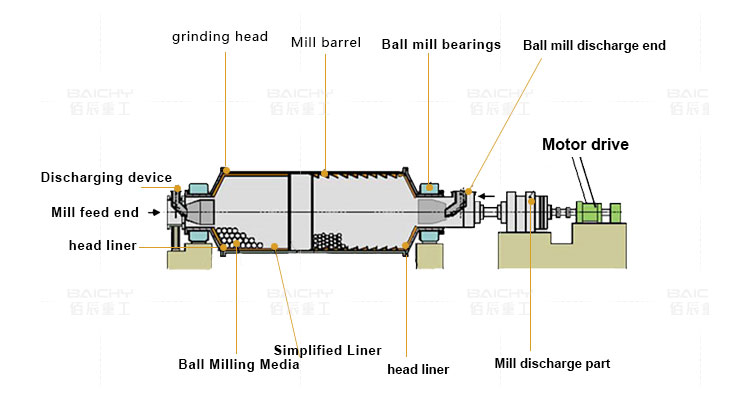 The materials are uniformly fed into the first chamber of the mill by the feeding device through the feeding hollow shaft. There is a stepped or corrugated liner plate and some steel balls of different specifications in the chamber. The cylinder rotates approximately once every couple of seconds, and the centrifugal force produced when the cylinder rotates brings the steel ball to a certain height and then falls down. This kind of impact force will have a grinding effect on the material. After the kibbling in the first chamber, the materials will enter the second chamber through the monolayer partition board, which is inlaid with a flat liner plate and contains steel balls to further grind the materials. After that, the powder will be discharged through the discharge device.