The iron ore crusher is a kind of mechanical equipment that crushes the raw iron ore step by step, from the bulk raw iron ore (about 500mm) to the millimeter fine material, usually using dry iron ore. The machine enriches the lean ore, sends the enriched iron ore-rich ore to the ball mill for grinding, and then separates and extracts iron fine powder by wet separation.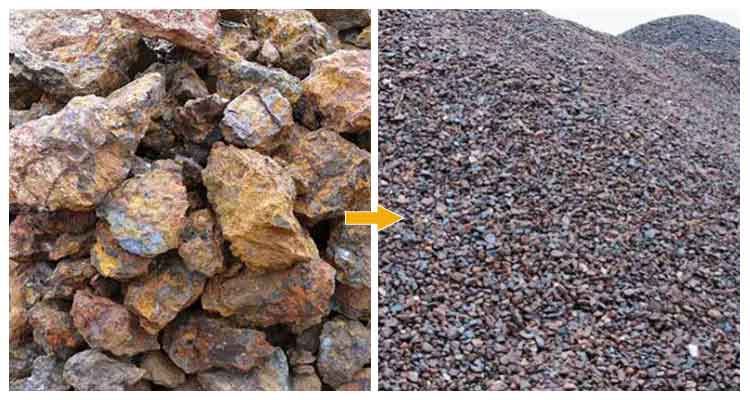 As a well-known supplier of mine crushing solutions, Pocky can provide each customer with a complete set of iron ore crushing equipment and comprehensive technical support.
Iron ore crushing plant process flow
According to the type and characteristics of the ore, there are many kinds of beneficiation processes for iron ore. Usually, iron ore can choose primary crushing equipment jaw crusher, secondary crushing equipment impact crusher, tertiary crushing equipment cone crusher; iron ore after primary crushing, and then secondary and tertiary crushing and shaping To a suitable particle size, it enters a ball mill for crushing and grinding and finally extracts.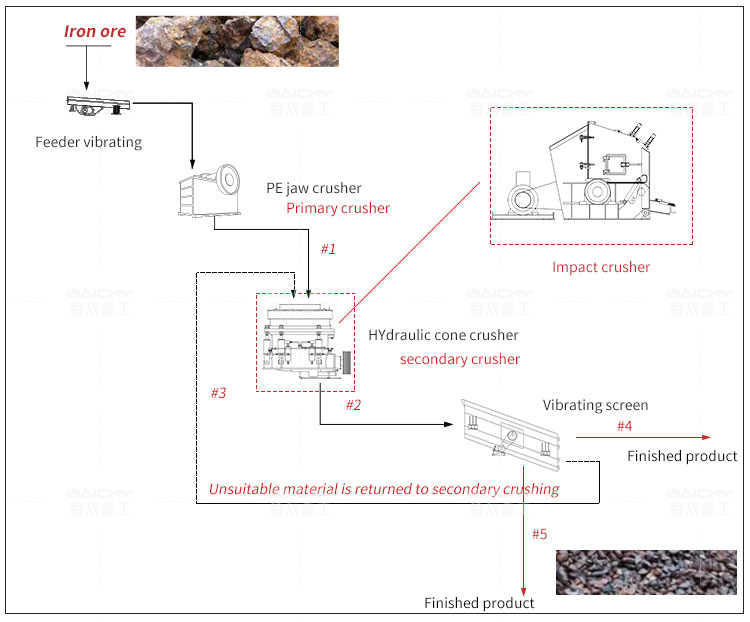 The iron ore is evenly transported by the vibrating feeder to the jaw crusher for coarse crushing, the crushed material is transported by the belt conveyor to the cone crusher for further crushing, the crushed material is transported to the vibrating screen for screening, and the particles are qualified The size of the material will be conveyed by the belt conveyor to the final product pile; the material with unqualified particle size will be returned to the cone crusher by the vibrating screen for secondary and tertiary crushing to realize closed-circuit circulation. The particle size of the final product can be combined and graded according to customer requirements.
Iron ore crushing process Advantage
The iron ore crushing production line has the characteristics of a high degree of automation, low operating cost, fine particle size, energy saving, and environmental protection. Pocky can provide customers with comprehensive process solutions and technical support, and can also design non-standard parts according to the actual installation situation of customers.
Case recommendation:Gold ore processing plant / Copper ore flotation plant