Bentonite Powder mill at Best Price in China
Bentonite is a water-containing clay mineral mainly composed of montmorillonite, which can be divided into sodium-based bentonite and calcium-based bentonite. Due to its various special properties, it is called "universal" clay, which can be used as a binder, suspending agent, filler, catalyst, etc. It is widely used in oil exploration, directional crossing, steel casting, metallurgical pellets, chemical coatings, etc. field.
Bentonite powfer milling is generally divided into four types: coarse powder processing (0-3mm), fine powder processing (20 mesh-400 mesh), ultra-fine powder processing (400 mesh-1250 mesh), and micro powder processing (1250 mesh-3250 mesh).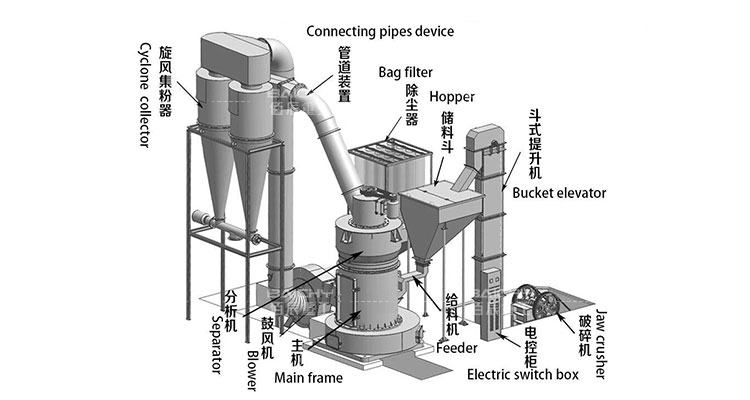 Stage 1: crushing
The bulk bentonite is crushed by the crusher to the fineness (15mm-50mm) that can enter the mill.
Stage 2: Grinding
The crushed small pieces of bentonite are sent to the silo by elevator and then sent to the grinding chamber of the pulverizer uniformly and quantitatively by the vibrating feeder for grinding.
For fine powder processing, a vertical roller mill and MFW European version can be used;
Ultrafine powder processing can choose HGM Micro-powder Grinding Mill.
Stage 3: Grading
The ground bentonite powder is classified by the classifier, and the unqualified powder is classified by the classifier and then returned to the main machine of the mill for re-grinding.
Stage 4: Gathering Powder
The bentonite powder that meets the fineness enters the dust collector through the pipeline with the airflow for separation and collection. The collected finished powder is sent to the finished product silo by the conveying device through the discharge port and then is uniformly packed by a powder tanker or an automatic baler.
Bentonite Powder mill - Wholesale Suppliers Online from Baichy Machinery