The first car is a mobile jaw crushing station with a ZSW1142 vibrating feeder and PE750X1060 jaw crusher.
Mobile jaw crushing station is a relatively new rock crushing equipment. It is mainly used in metallurgy, chemical industry, building materials, hydropower, and other materials that often need to be relocated. For operation, users can adopt various configuration forms according to the type, scale, and finished material requirements of processing raw materials. The mobile jaw crusher greatly expands the field of primary crushing concepts.
The second trolley is a mobile cone crushing station equipped with HP300 cone crusher and a 3YK2160 vibrating screen.
The cone-type mobile crushing station is large-scale mobile crushing equipment produced by the designers of Baichy Heavy Industry by combining environmental protection concepts and practices. It adopts vehicle-mounted traction so that the crushing station can meet the mobility requirements no matter on the work site or on the road.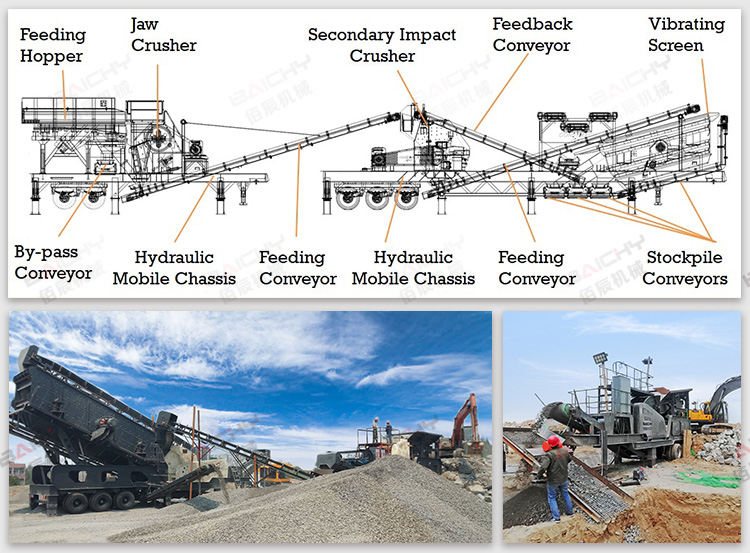 When crushing in two or three sections of the production line, the mobile station equipped with CS, HPC, or PYB series cone crushers with high performance and high production capacity eliminates the obstacles of crushing site, environment, and complicated basic configuration to customers' crushing operations. Ideal equipment for investment and construction, and good equipment with high returns and high returns for users.
The third car is a mobile sand-making and crushing station equipped with VSI1145 sand-making machine and a 3YK2160 vibrating screen.
The environmental protection situation in the sand-making industry is becoming more and more severe. A large number of sand farms have been shut down due to unqualified environmental protection. It is imminent to start the environmental protection and energy-saving sand production line.
Different from the fixed production line, the Baichy mechanical flow sand-making machine has a flexible body, stable sand-making performance, and a variety of configuration schemes. It can be said to be "one machine with multiple sides". The mobile production line expands the processing range and realizes large-scale mobile sand-making operations.