As primary crushing equipment, the jaw crusher is widely used in crushing and sand-making production lines, and the jaw crusher can crush various rocks with a compressive strength not exceeding 350 MPa, with a large crushing ratio, stable performance, environmental protection, etc. Advantages, with the improvement in technology, this jaw crusher is really powerful, and it is included in the 200t/h dolomite crushing production line.
200t/h dolomite crushing production line
According to customer requirements, the main body of the 200t/h dolomite crushing production line is all made of the steel frame. In addition to the jaw crusher, it is also equipped with mining crushing equipment such as a vibrating screen, cone crusher, fine crusher, and belt conveyor. In the conventional process of re-screening, at the same time, we use the cone crusher as the secondary crushing in the design, and undertake the secondary crushing of the returned material on the vibrating screen, the purpose of which is to obtain a better particle shape.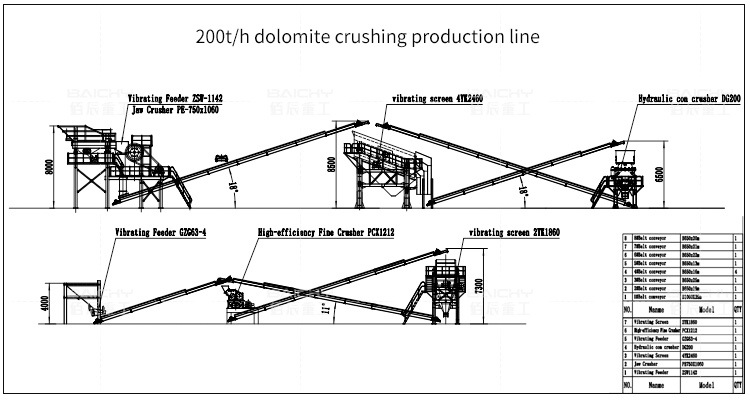 The production line equipment has the functions of feeding, crushing, conveying, and screening, which greatly reduces the installation time and freight costs of the equipment, making crushing convenient and fast, and the operation is also very simple, and also saves a lot of time and cost for customers、invest.
This dolomite crushing production line has a wide range of applications. It can not only crush dolomite, but also crush construction waste, slag, and other difficult-to-handle materials, and can also be used on rugged mountain roads, narrow sites, muddy roads, etc. Do your homework.
The processing capacity of the dolomite jaw crusher is 30-800t/h, which can meet the different needs of customers in terms of output, and the models are relatively complete, and the output achieved by different models is also different.