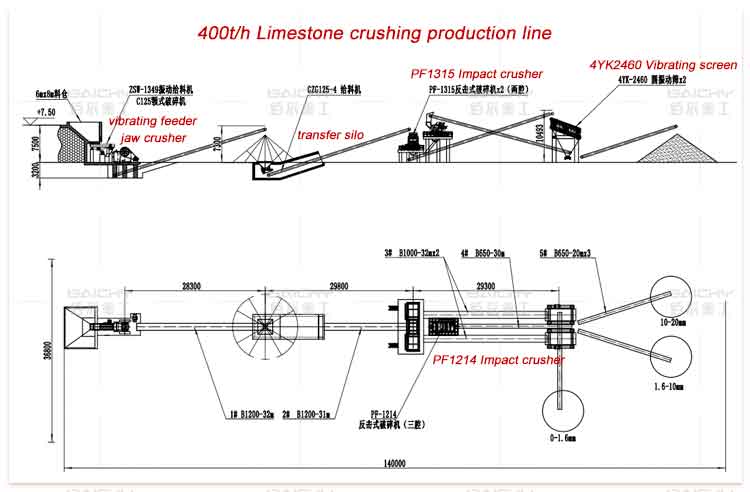 | | |
| --- | --- |
| Capacity | 400t/h |
| Stone | Limestone |
| Base | Concrete |
| Density | 1.6t/m³ |
| Final product | 0-5, 5-10, 10-20, 20-25, 25-30mm |
| Manufacturer | Baichy Heavy Industrial Machinery Co., Ltd |
| Vibrating feeder | ZSW1349 |
| Jaw Crusher | C125 |
| Impact crusher | PF1315 (2 sets), PF1214 |
| Vibrating screen | 4YK2460 (2 sets) |
| Conveyor belt | motor driven |
| Control system | including control box and control panel |
Introduction of limestone crushing production line
Limestone crushing production line is an important production link in the burnt lime production line and cement production line; it is also a stone processing production line. The limestone can be pulverized or broken into various particle sizes, which is beneficial to the further processing of the limestone in the later stage.
The process flow of the limestone crushing production line is rough as follows:
The raw materials are coarsely crushed. The limestone raw materials enter the
jaw crusher
evenly through the silo and vibrating feeder for coarse crushing. The coarsely crushed materials are transported to the transfer silo by the belt conveyor, so as to relieve the excessive stone materials from entering the impact crushing, and then The stone is transported by the belt conveyor into the impact crusher. After being screened by the vibrating screen, the large material is transported by the belt conveyor and returned to the impact crusher for secondary crushing, and finally, the material is screened into the required particle size.
Program advantage
1. As for the gravel material, after the limestone crushing production line is treated, the grain size of the limestone product is mostly a cube, which is good for the later processing of the limestone.
2. Process, the production line process is simple, and scientific and rational, smooth operation;
3. Equipment configuration, Baichy machine designed limestone crushing production line full set of equipment, reasonable configuration, equipment with reasonable, is conducive to the smash limestone.
Limestone crushing plant equipment manufacturers recommend
Baichy Heavy Industry has been committed to the production of marble crushing equipment for more than 30 years. It not only has very rich production experience but also has advanced production technology and complete production facilities. Baichy Machinery regards quality as its life and selects high-quality raw materials. The quality of the marble crushing equipment produced by Hongxing Machinery has passed the international quality system certification and has been unanimously recognized by the majority of users.
Not only that, the marble crushing equipment produced by Hongxing Machinery is very affordable, which can greatly reduce the user's investment in production. If users need or want to know more about their equipment, they can call Baichen Heavy Industry's free consultation hotline at any time.
8615093222637
, we will serve every user attentively, and according to the actual production needs of the user, give the user a more reasonable and preferential price.