With the development of the digital and information age, the mining machinery industry has been developing at a rapid pace. "High precision, high quality, low energy consumption, and low cost" have become synonymous with mining equipment in the new era. Today's relatively "hot" mobile crushing station is a good illustration. It is crushed at one port and has multiple outlets. It can output various types of sand at the same time, and it can be moved to different sand and gravel yards at any time. It is flexible in movement and collocation. In terms of market production, it can be matched with various crushing equipment such as jaw crushers, impact crushers, cone crushers, and impact crushers, and heavy hammer crushers. The following details: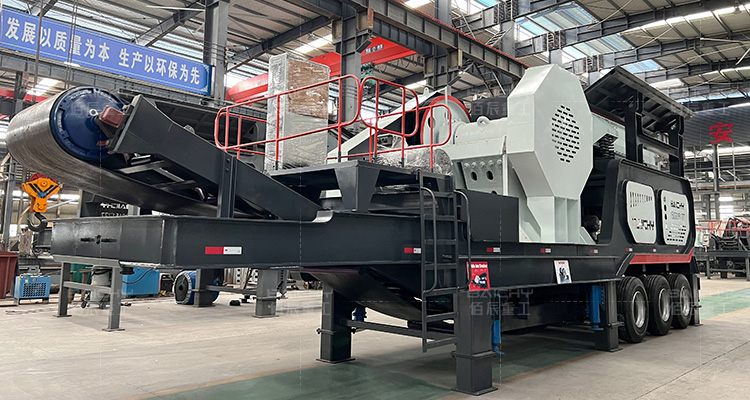 1. Mobile Jaw Crusher
Driven by market demand, mobile crushing stations are gradually developing towards leanness. At present, mobile jaw crushers are one of the most used mobile equipment in the market, and they are very effective in processing construction waste such as waste brick slag and waste cement blocks. it is good.
Advantages of mobile jaw crusher:
a. The structure design is compact, the turning radius is small, the access to the material yard is convenient, the material transportation link is reduced, the foundation construction in the early stage and the demolition and construction work at the end of the project are shortened, and energy saving and environmental protection are achieved.
b. The dual-purpose power system of oil and electricity is adopted, so that the equipment can work normally when there is no electricity, low voltage or power failure, and the production efficiency is high.
c. A wide range of materials can be processed. In addition to construction waste such as waste bricks and waste cement blocks, raw ore with high or medium hardness such as granite and river pebbles can also be crushed.
d. Equipped with a complete noise reduction and dust removal system, it can spray and reduce dust through hydraulic pumps to meet environmental protection standards.
e. Strong complete set, integrated unit design, covering crushing, screening, conveying and other multiple links in one, the main crushing equipment is not only jaw crusher, but also cone crusher, impact crusher and hammer crusher etc. can be used with the mobile crushing station.
f. The mobile jaw crusher has reasonable structural design, advanced technology, and good environmental protection performance. Even if the equipment is sold second-hand in the later stage of operation, it has a strong ability to depreciate and maintain value.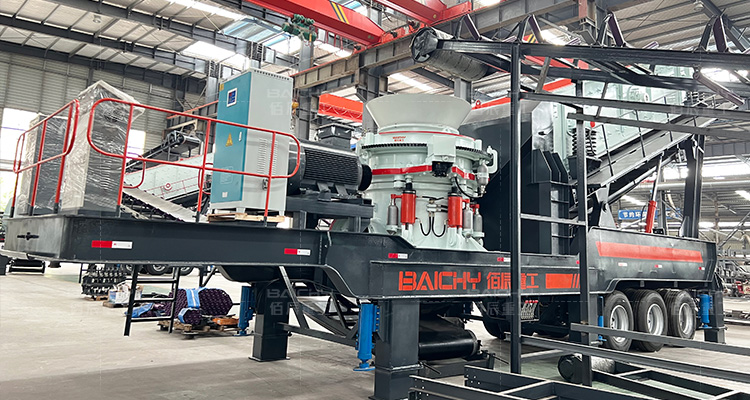 2. Mobile cone crusher
Mobile cone crushers are mainly divided into tire-type cone crushers and crawler-type cone crushers. They are mainly used for metallurgy, the chemical industry, building materials, and other processing that require frequent relocation operations, especially for materials with high fluidity such as construction waste. Processing and applicable materials are very wide, and the market utilization rate is quite high.
The main advantages of mobile cone crushers:
a. The operation function is direct and effective
Regardless of the single-machine operation, dual-machine or three-stage combined operation, each level of the crushing station is an independent work unit, which can perform different duties and reduce transportation costs between materials. The combination is reasonable and the work is efficient.
b. With science, stable performance
The crawler-type medium-crushing cone crusher is equipped with a high-performance multi-cylinder cone crusher, with crushing efficiency, versatility, excellent crushing product quality, light, reasonable structural design, and excellent crushing performance. The configured cone crusher can not only properly perform the function of fine crushing, but also directly produce medium and fine-grained sand and gravel products.
c. Stable operation and easy maintenance
The technology of this machine is very mature, the operation and maintenance are simple and easy, and it has good adaptability, safety, and reliability to the transportation volume, material particle size, and abrasiveness. The integrated unit configuration is convenient and reasonable for installation and maintenance. In addition to powering the unit, the diesel generator in the integrated unit configuration can also provide a joint power supply to the processing system configuration unit.
d. Green operation, environmental protection production
The cone crusher adopts the principle of static pressure. After secondary vibration isolation, the equipment has small vibration and low operating noise. It creates a green and environmentally friendly sand and gravel production plant with mature technology and convenient maintenance.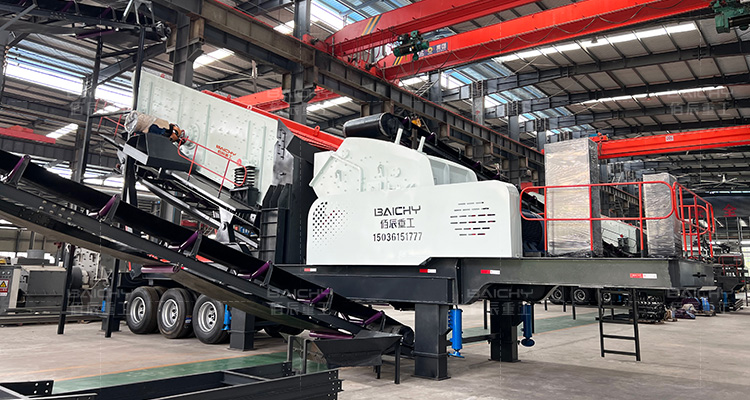 3. Mobile Impact Crusher
As a standing "fighter" in the mine-crushing industry, the mobile impact crusher has become the standard configuration of each sand factory. The complete set of mobile impact crusher equipment includes feeding, fine crushing, screening, and conveying. The matching of each piece of equipment Sound science:
a. Hydraulic control, safe and reliable
The impact mobile crusher adopts hydraulic drive control, crawler walking, equipment installation, and production operations, the transmission is more stable and can realize step-less speed change, more flexible and better controllable; equipped with a load sensitive control system to realize on-demand distribution of system flow output, the control is more intelligent, the energy consumption is lower, and the safety is higher.
b. Strong power performance, environmental protection, and energy saving
The mobile impact crusher is equipped with a high-performance diesel engine with strong power; with high-quality driving transmission parts and strong driving force, it can completely realize climbing operations under harsh terrain conditions.
c. Consumable parts are wear-resistant and stable
It adopts a higher-strength integral frame, uniform mass distribution, and a compact and reasonable equipment layout. With the full hydraulic system control, the equipment is more flexible and controllable; equipped with SBM's advanced host equipment, the production efficiency is higher.
d. A variety of matching, intelligent control
It can work alone, or it can be flexibly configured and combined with other fixed or mobile equipment; at the same time, the compact structure of the machine has good adaptability to narrow sites, and the working position can be adjusted at any time according to requirements.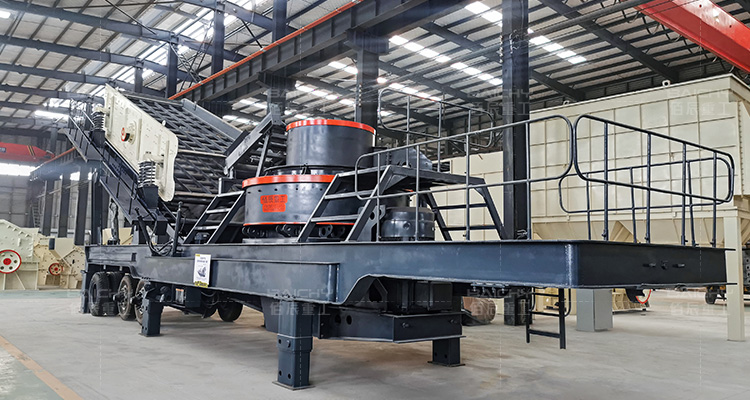 4. Mobile impact sand-making machine
The mobile impact crushing station is a mobile integrated sand-making machine. The main crushing equipment of the body is a high-performance impact sand-making machine, which has many superior performances such as scientific matching, reasonable design, and stable structure.
mobile impact sand-making machine
Generally speaking, whether it is a mine rough stone processing plant or a construction waste crushing plant, they are generally located in remote areas. For this feature, the mobile impact sand-making machine is equipped with a diesel generator set to continuously ensure the stable power consumption of the sand plant.
In addition, the advanced PLC intelligent control system is adopted, and the user can monitor the operation in the control room, and clearly see the temperature, voltage, airflow, and other data of the equipment in each link, and the operation of the equipment is controlled more accurately and scientifically.
Since there are many types of fixed sand-making machines equipped with mobile impact crushers, as far as impact sand-making machines are concerned, there are three types of impact sand-making machines, such as HVI impact sand-making machine, VSI sand making machine, and vertical shaft impact sand-making machine. Each type of equipment has its own design models and parameters, so the entire series of mobile impact breakers is very complete.
a. 5X impact mobile crusher: the fixed output of a single machine is between 70-700 tons per hour, and the feed particle size is less than 55mm. It is a very advanced sand-making equipment at present, and the output particle shape is very good;
b. VSI mobile impact crusher: very cost-effective, the output of a single machine is between 60-600 tons per hour, the market share is high, and there are many user inquiries;
c. Vertical shaft impacts mobile crusher: the single-machine fixed output design is relatively small and suitable for use in small and medium-sized sand and gravel yards.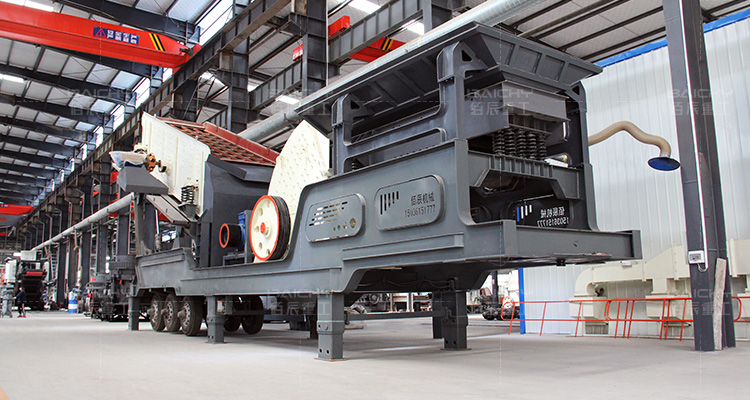 5. Mobile Hammer Crusher
With the support of advanced technology, there are many matching forms of mobile crushers on the market, but when it comes to cost performance, it must be mobile hammer crushers. Adhering to the advantages of one-time crushing and forming, it is matched with a mobile frame. , really let users feel its convenience.
mobile hammer crusher
Adhering to the advantages of one-time crushing and forming of the heavy hammer crusher, the whole machine covers the double crushing links of coarse crushing and fine crushing, one against four, and a complete crushing production line composed of feeding, heavy hammer crushing, screening, conveying and other systems, the construction site is more adaptable, the occupied area and space are smaller, and the production is more worry-free and convenient. Super cost-effective, intelligent control, energy saving, and environmental protection can be seen:
a. High-cost performance
The body frame and chassis are designed and manufactured with high-quality technology, reliable quality, low production cost, and high-cost performance. In addition, the heavy hammer crusher itself has high-cost performance, fewer crushing links, uniform and orderly finished product grain shape, and high equipment utilization rate.
b. Wide range of materials used
The mobile hammer crusher can be applied to a wide range of materials. It is often used for crushing urban construction waste. It can also be used for crushing ore rocks such as limestone and bluestone. Low, high material handling efficiency.
c. Energy saving and environmental protection
Due to the omission of the secondary crushing link, the mobile heavy hammer crushing itself saves part of the energy consumption. Generally speaking, compared with other mobile crushing stations, it can save energy by more than 20%. The on-site crushing of raw materials reduces dust pollution, which is in line with relevant environmental protection requirements. required.
d.. Intelligent control and easy operation
With the continuous development of science and technology, mobile crushing equipment is also constantly upgraded and innovated. The mobile hammer crushers currently on the market are controlled by the PLC control system, which can be started and stopped with one button, misoperation reminders, parameter adjustments, and other functions. , can realize intelligent adjustment, and has low requirements for workers' operation skills.