Jaw crusher and hammer crusher are the more common crushers when we crush stone. Do people often ask what is the difference between a jaw crusher and a hammer crusher? How should we choose?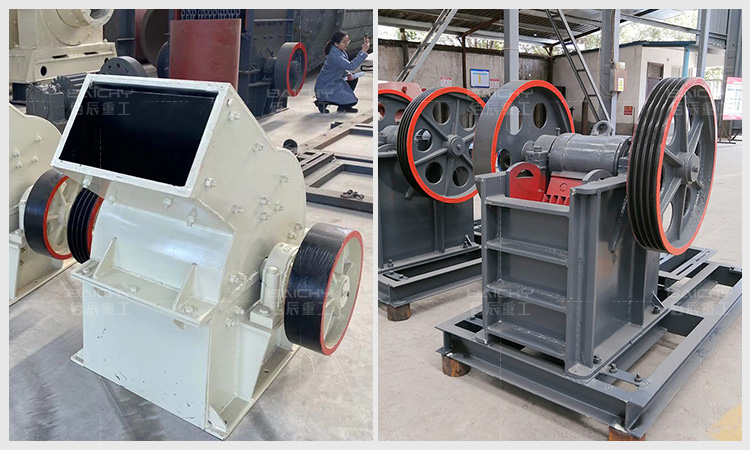 1. The appearance and working principle are different
If you are familiar with it, you can directly distinguish it from its appearance; the working principle is even more different. The working mode of the jaw crusher is a curved extrusion type, and the material is squeezed in the crushing cavity composed of the movable jaw and the fixed jaw. crushed;
The hammer crusher is mainly crushed by the impact, shearing, and tearing of the rotating hammerhead, the collision between materials, and the counterattack of the liner.
2. Different crushing materials
The jaw crusher can crush various soft and hard materials with a compressive strength between 300-350Mpa, such as granite, quartz stone, diabase, river pebbles, iron ore, etc.
Hammer crusher is mainly used to crush ore with low hardness, the compressive strength is generally lower than 200Mpa, such as limestone, bluestone, coal gangue, etc.
However, when the hammer crusher crushes hard materials, the hammerhead wears seriously. For ordinary high manganese steel hammerheads, some need to be replaced in 2 or 3 days, and the cost is too high.
3. Different discharge adjustment methods
The adjustment of the discharge particle size of the hammer crusher is realized by replacing the bottom sieve plate.
There are many adjustment methods for the jaw crusher, including backing plate adjustment, wedge adjustment, and hydraulic cylinder.
4. Different production line configurations
Generally speaking, the content of needle flakes in the output of the jaw crusher is relatively high, and it needs to be shaped with an impact crusher, so we often see the configuration of the jaw crusher + impact crusher.
Hammer crushers are mainly used for industrial secondary crushers, one-time forming, and no secondary crushing, and shaping process, so hammers are often used alone in small and medium-sized production lines.
5. The application of sand aggregate production line is different
Hammer crushers are rarely used in sand and gravel aggregate production lines. Although the process is simple, the yield of finished products is low, it is easy to be crushed, there are many powdery materials, the finished aggregates may have micro-cracks, and the compressive strength is low, which affects the quality of the aggregates. Quality also affects sales and prices, so it is often used as auxiliary sand-making equipment.
Jaw crushers
are often used as coarse crushing equipment in aggregate production lines, followed by impact crushers or cone crushers, and then sand-making machines for shaping.