The output of this small and simple
portable crushing plant is 30-60t/h, which is mainly used in small mine crushing systems. This portable crusher or portable crushing plant is used to handle rock, concrete, and other hard rocks. It can be thought of as a combination of feeding and crushing in stationary crusher equipment.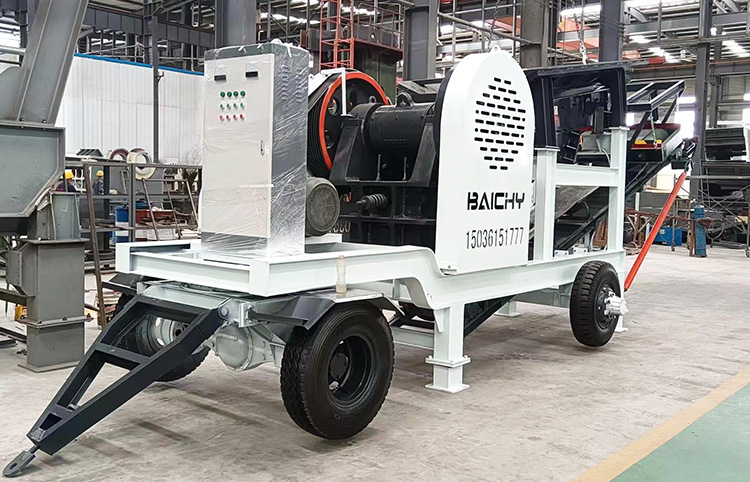 Transport size

Length(mm)

Width(mm)

Height(mm)

Total weight(kg)

Main unit weight(kg)

6000

2350

3100

9600

6800

Main unit

Model

Feed opening(mm)

Discharging hole setting range(mm)

Motor Power(kw)

Capacity(t/h)

Jaw crusher

PE400x600

400x600

40-100

30kw

30-60t/h

Model

Size of Feed Spout(mm)

Max Feeding size(mm)

Motor Power(kw)

Capacity (t/h)

Feeder Vibrating

ZSW6520

650x2500

560

5.5x2

50-90t/h

Model

Width(mm)

Length(mm)

Motor Power(kw)

Belt

B500

500

6000

4kw

Capacity(t/h)

30-60t/h
Introduction
The simple portable crushing plant is flexible and convenient, with strong mobility, which can save a lot of infrastructure and relocation costs; it can crush materials on-site and move with the advancement of the raw material mining surface, thereby greatly reducing the transportation costs of materials.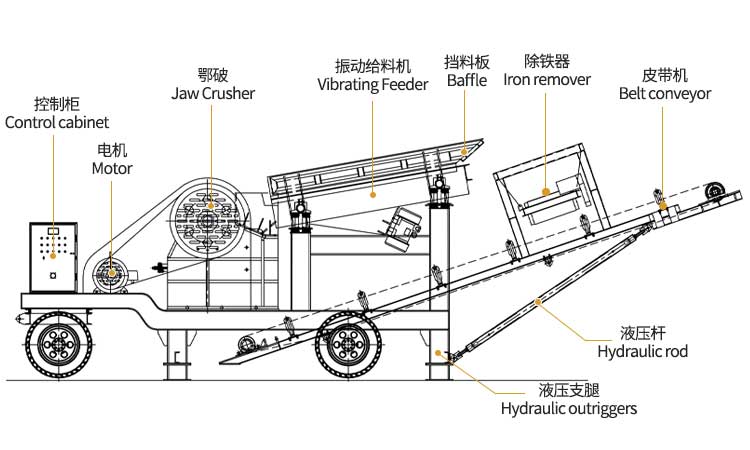 Working principle:
The material is evenly conveyed to the jaw crusher by the feeder, and after the jaw crusher is used for coarse crushing, the finished material is output by the conveyor for continuous crushing operation. It is convenient and flexible to use with other crushing and screening equipment.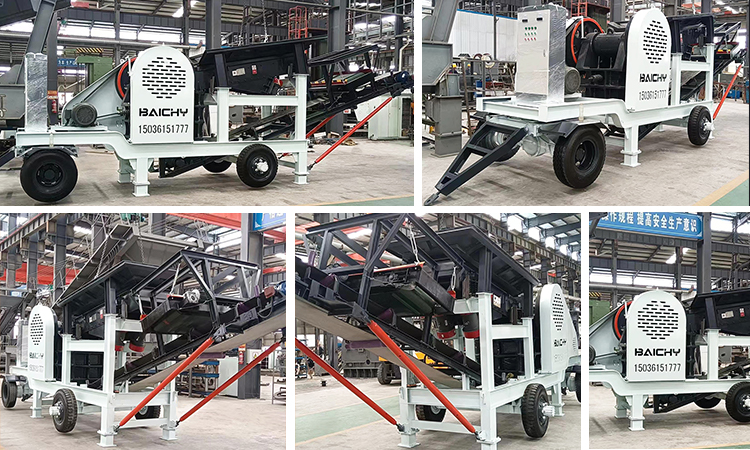 Features:
1. Strong mobility: The tire mobile crushing station has a short length, a short wheelbase, and a small turning radius; it can be operated flexibly in the working area.
2. Integrated design: It eliminates complicated installation operations, reduces infrastructure operations, reduces materials and time-consuming, and improves the flexibility of site layout.
3. Reduce transportation costs: The mobile crushing station can process materials on the spot and reduce material transportation costs.
4. Flexible combination: The integrated series mobile crushing station can be used independently, and can also provide more flexible process configuration according to the customer's requirements for the types of materials and products in the process.
5. Simple operation: According to different crushing process requirements, it can be composed of "first crushing and then screening" or "first screening and then crushing" process for coarse crushing and screening operations.
Baichy Heavy Industry has been committed to the production of marble crushing equipment for more than 30 years.
It not only has very rich production experience but also has advanced production technology and complete production facilities. Baichy Machinery regards quality as its life and selects high-quality raw materials. The quality of the marble crushing equipment produced by Hongxing Machinery has passed the international quality system certification and has been unanimously recognized by the majority of users.
Not only that, the marble crushing equipment produced by Baichy Machinery is very affordable, which can greatly reduce the user's investment in production. If users need or want to know more about their equipment, they can call Baichy Heavy Industry's free consultation hotline at any time.
8615093222637
, we will serve every user attentively, and according to the actual production needs of the user, give the user a more reasonable and preferential price.