Crawler-type hydraulic-driven crushing station (crawler-type mobile crushing station) is one of the construction waste treatment equipment, and the aggregate produced by crushing construction waste can be reprocessed by brick-making machines and other equipment to produce pavement bricks, wall bricks, Water seepage bricks can be used for garden road laying, interior decoration, etc. With the infiltration of green environmental protection concepts and the increase of national support in recent years, construction waste recycling has a huge market and prospects.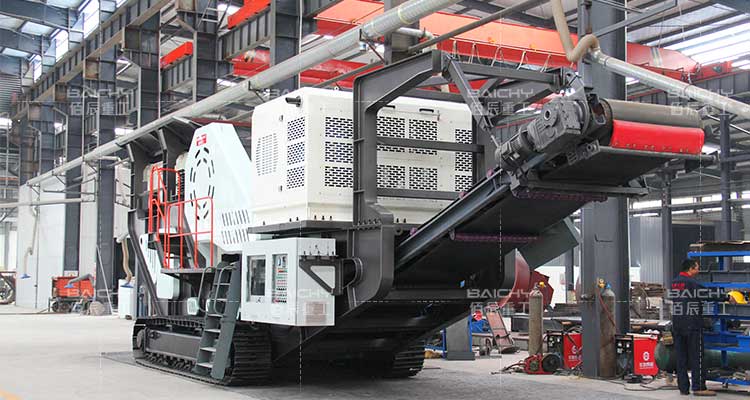 Baichy crawler mobile crushing station is not affected by the environment, it is flexible and easy to operate. Crawler-type mobile crushers with an output of 100 tons per hour are particularly popular. Its main equipment can be configured according to customer needs. The common main equipment includes a jaw crusher, impact crusher, cone crusher, etc.
What factors affect the price of a 100t/h crawler mobile crushing plant?
The crawler-type mobile crushing station with an output of 100 tons per hour can operate alone or in combination with multiple machines. Pricing is primarily related to the type and model of the Hosting Device configured but is also affected by the following other factors.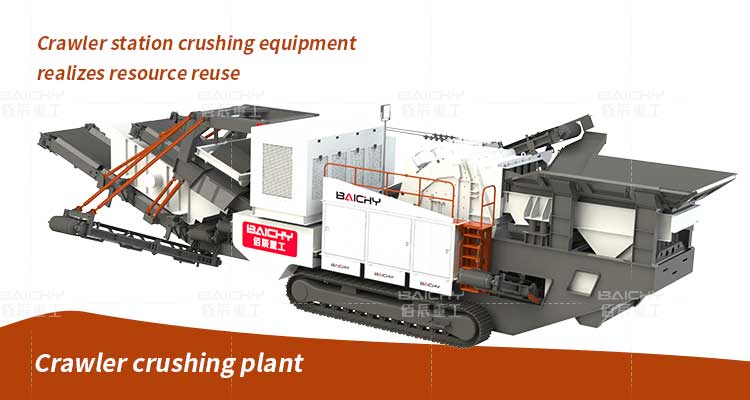 1. Crawler station crushing station of different manufacturers
The launch of the crawler-type hydraulically driven crushing station (crawler-type mobile crushing station) confirms that the current development of crushing machinery products presents the trend of digitization, parallelization, integration, and knowledge. Among them, digital has become the core technology for rapid innovation and development.
There are many manufacturers of mobile crushing stations, and the crawler station designed by each manufacturer has its own advantages.
2. The specification, model, and quality of the selected equipment.
There are many models of crawler-type mobile crushing stations, which can be matched with various crushing and sand-making equipment. The exact price depends on the crushing equipment you choose. If the equipment is of average quality, the price is relatively cheap.
3. Factory after-sales service.
There are many middlemen for mobile crushing station manufacturers, and the price is relatively unstable. Powerful manufacturers have perfect after-sales service, and direct-selling manufacturers provide perfect after-sales service to ensure worry-free after-sales.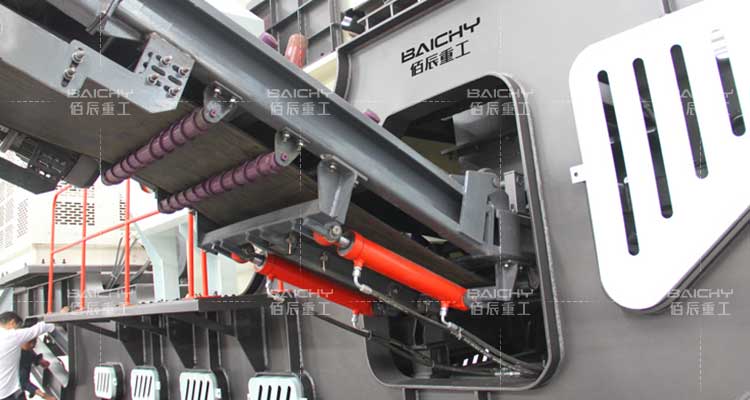 Performance Advantages of Track Stations
1.Adaptable
The chassis adopts a crawler-type full-rigid ship-type structure with high strength, low ground pressure ratio, and good passability. Combined with a load-sensitive variable pump + electromagnetic proportional multi-way valve, it ensures that the hydraulic system is strong, energy-saving, and has good adaptability to mountains and wetlands.
2.High screening and crushing rate
The crushing and screening equipment adopts mature products produced by our company, with compact structure and stable performance. The screening equipment adopts a 20° inclination angle, and the screening is stable and reliable. There is no need to go through multiple installation processes in the early stage, and the later stage transition is flexible and free, and the operation is direct and effective.
3.Flexible work
The crawler-type hydraulic drive crushing station (crawler-type mobile crushing station) integrates process equipment such as material receiving, crushing, and conveying.
4.Strong independence
The crawler-type hydraulic drive crushing station (crawler-type mobile crushing station) adopts the main structure of the double-layer screening machine and is equipped with an excellent grid screening channel, which can stand freely without support. The material can be processed on-site without having to move the material away from the site for reprocessing, which greatly reduces the transportation cost of the material.