Raymond mill is a kind of heavy machinery widely used in the mining development industry, with a simple structure and strong performance. The complete Raymond mill machine mainly includes a grinding roller, analyzer, separator, blower, dust collector, etc. According to users' needs, it can be equipped with a jaw/hammer crusher, bucket elevator, vibrating feeder, electric control cabinet, etc.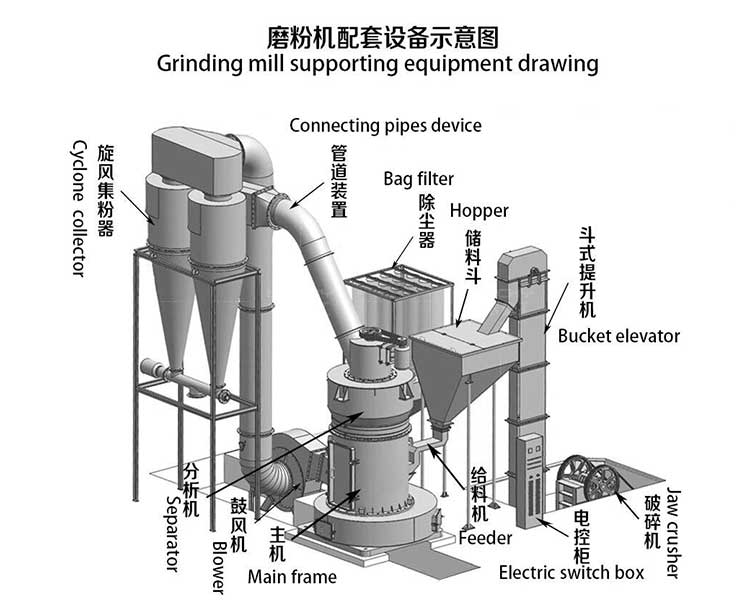 Raymond mill is a commonly used industrial milling equipment, suitable for processing non-flammable and non-explosive ores with Mohs hardness not exceeding 7 and humidity below 6%, such as barite, calcite, potassium feldspar, talc, marble, limestone, ceramics, glass, etc. It is also suitable for milling more than 280 kinds of materials in mining building materials, chemical industry, metallurgy, and other industries. The grinding particle size can be adjusted in the range of 80-400 mesh.
How does Raymond mill work? What is the working principle of Raymond mill?
Large bulk materials crushed by a jaw crusher to the needed size are fed into the storage hopper and then fed into a grinding chamber uniformly by a vibrating feeder for grinding. Ground materials are blown into a separator by a blower for classification. With the function of impellers in the separator, materials without meeting fineness are fallen into the grinding chamber for grinding again. Materials meeting fineness are blown into a cyclone powder collector with airflow through pipelines for separation and collection. The powder from a discharging device is the finished product. Separated airflow is back to the blower through the return duct on the top of the cyclone powder collector.
The Raymond mill features:
1. Raymond mill is a three-dimensional structure, with a small footprint and strong completeness. It is an independent production system from block material to finished powder.
2. The fineness of the finished powder of Raymond mill is uniform, and the sieving rate is 99%, which is difficult for other milling equipment to have.
3. The transmission device of Raymond mill adopts a closed gear box and pulley, which has a stable transmission and reliable operation.
4. The important parts of Raymond Mill are made of high-quality steel, and the wear-resistant parts are made of high-performance wear-resistant materials. The whole machine has high wear resistance and reliable operation.
5. The electrical system adopts centralized control, the grinding workshop can basically realize unmanned operation, and the maintenance is convenient.
Grinding mill equipment manufacturers recommend
Baichy Heavy Industry has been committed to the production of marble crushing equipment for more than 30 years. It not only has very rich production experience but also has advanced production technology and complete production facilities. Baichy Machinery regards quality as its life and selects high-quality raw materials. The quality of the marble crushing equipment produced by Hongxing Machinery has passed the international quality system certification and has been unanimously recognized by the majority of users.
Not only that, the marble crushing equipment produced by Hongxing Machinery is very affordable, which can greatly reduce the user's investment in production. If users need or want to know more about their equipment, they can call Baichen Heavy Industry's free consultation hotline at any time. 8615093222637, we will serve every user attentively, and according to the actual production needs of the user, give the user a more reasonable and preferential price.
Website : https://www.baichychina.com