Raymond mill is the main milling equipment in the industrial milling production line, mainly used for milling marble, limestone, and other materials. It has the characteristics of small size, small footprint, strong complete set, uniform grinding fineness, high screening rate, green environmental protection, etc., but customers do not know which aspects to choose when purchasing equipment.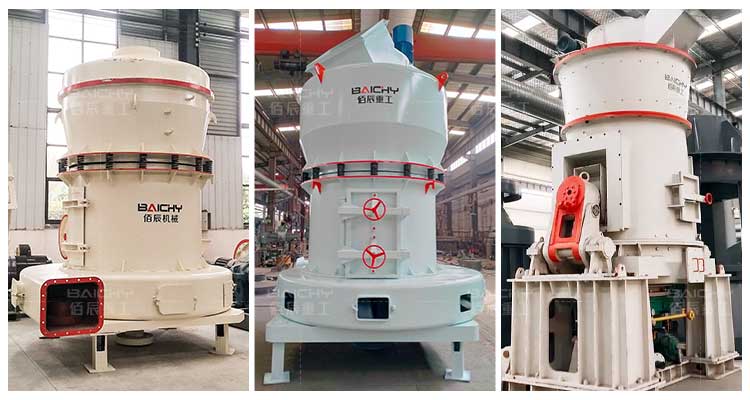 So how to choose the right grinding equipment? In the following article Baichen made a specific analysis:
1. Select the technical parameters of the equipment
There are many manufacturers of grinding equipment in the market, and the models of different manufacturers are slightly different. When customers do not know the product very well, they must refer to the technical parameters and choose the corresponding model according to their actual needs.
2. According to the characteristics of raw materials
The selection of grinding equipment should also consider the condition of raw materials, what is the hardness of the processing, and the fineness of the finished product? Fineness is also an important factor in determining the hardness of a material, as the coarser the finished product, the easier it is for the machine. Therefore, users can choose according to the actual situation of the material.
3. Your own investment budget
Different types of grinding equipment have different performances, so the production cost and output will be different, and the price will also be different. Customers can choose the appropriate equipment according to their investment budget.
For the choice of grinding equipment, users should not be blind. It is necessary to inspect a piece of equipment in an all-around way in terms of raw materials, output, finished product granularity, and budget, so as to meet the needs of customers as much as possible and serve customers better.

Grinding mill equipment manufacturers recommend
Baichy Heavy Industry has been committed to the production of marble crushing equipment for more than 30 years. It not only has very rich production experience but also has advanced production technology and complete production facilities. Baichy Machinery regards quality as its life and selects high-quality raw materials. The quality of the marble crushing equipment produced by Hongxing Machinery has passed the international quality system certification and has been unanimously recognized by the majority of users.
Not only that, the marble crushing equipment produced by Hongxing Machinery is very affordable, which can greatly reduce the user's investment in production. If users need or want to know more about their equipment, they can call Baichen Heavy Industry's free consultation hotline at any time. 8615093222637, we will serve every user attentively, and according to the actual production needs of the user, give the user a more reasonable and preferential price.
Website :https://www.baichychina.com