Jaw crushers and impact crushers are both commonly used crushing equipment in the crushing market, but what is the difference between these two types of equipment?
Online explanation
The scope of application of the crusher is different
The jaw crusher can crush soft and hard materials, and the compressive strength is between 300-350Mpa, while the impact crusher is suitable for crushing medium hardness and lower toughness, relatively brittle materials, such as limestone, limestone, etc., if the material is hard, it will cause great damage to the wearing parts, thereby shortening their service life.
Material particle size
Jaw crushers are generally used to crush large pieces of material, allowing ore below 1m to enter (depending on the type of equipment and manufacturer). They are widely used in mines and gravel fields, and impact crushers are mostly used to process some For small and medium-sized materials, the allowable range of feed particle size is not as wide as that of the jaw crusher.
| | | |
| --- | --- | --- |
| | Max. Feeding size(mm) | Output size(mm) |
| Jaw Crusher | ≤1200mm | 10-360mm |
| Impact Crusher | ≤700 | 15-800mm |
Crusher production line location is different
As we all know, in crushing, sand making, beneficiation, and other production lines, the jaw crusher is a commonly used primary crushing equipment, used for coarse crushing (fine jaw crusher can be used for medium or fine crushing), and impact crusher is a commonly used secondary crusher Or tertiary crushing equipment for medium or fine crushing.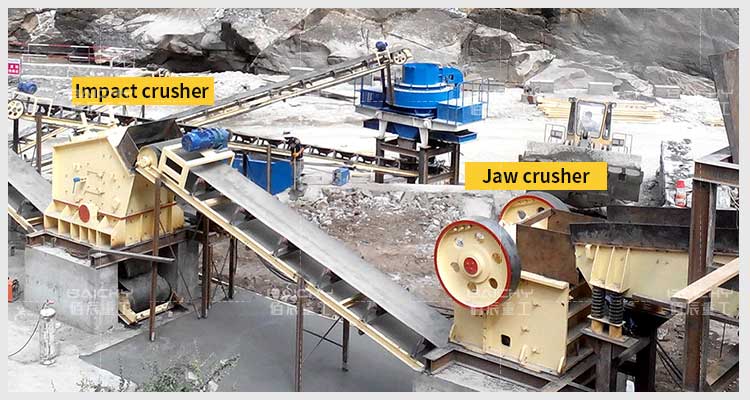 Crusher production capacity varies
In general, the production capacity of the jaw crusher is larger than that of the impact crusher. Generally speaking, the hourly output of a jaw crusher can reach 1-2200t (depending on the manufacturer and product model), and the hourly output of an impact crusher is about 30-800t.
Crusher with different discharge fineness
The jaw crusher is used as a coarse crusher, and its discharge fineness is relatively large, generally below 300-350mm (depending on the manufacturer and product model). Small. It should be noted that due to different material properties, there will be errors in the discharge fineness of the crusher equipment.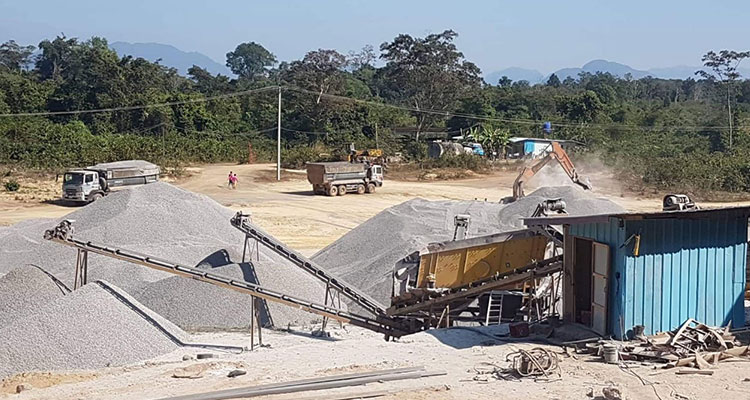 Crusher's discharge grains are different
The material after extrusion processing by jaw crusher has uneven grain shape and high needle content; impact crusher is a product with good grain shape and fewer edges and corners of the finished product in the crushing equipment, and its grain shape is also better than that of cone crusher. . Therefore, in actual production, the jaw crusher is usually equipped with an impact crusher for further shaping, and the two are also common in the crushing production line.
As a manufacturer and supplier of crushing equipment, Baichy Machinery has rich experience in crusher manufacturing. The machines are of good quality, high efficiency, and a complete range. The company has professional engineers to guide the whole process. If you want to know more about crusher product information and project plans, you can call us, we will answer your questions in time.