With the limited mining of natural sand and increasingly stringent environmental regulation, the shortage of sand and gravel resources has become an indisputable fact. The production of machine-made sand is not affected by climate and seasons and can be effectively controlled during the production process, so it is favored by users. For a time, the production of machine-made sand was in full swing. It is necessary to understand the equipment production knowledge of the sand and gravel industry. Let's take the 150t/h production line as an example to introduce the equipment in detail.
150t/h machine-made sand production line is generally composed of a vibrating feeder, jaw crusher, sand making machine, vibrating screen, sand washing machine, and belt conveyor. According to different process requirements, combine various types of equipment to meet different process requirements.
According to the properties of the rock, the scheme in configuration 2 is for your reference:
Option One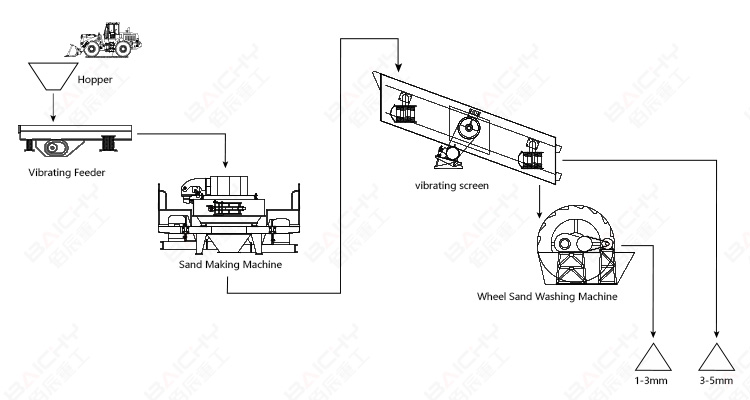 Vibrating feeder + sand-making machine + vibrating screen + sand washer = finished material.
This scheme is suitable for rocks with a hardness below 150Mpa, such as limestone, dolomite, bluestone, etc. If the raw material size is less than 200 mm, the production line can reduce the crushing process, and the sand-making machine can directly process the raw material into sand and gravel.
Option II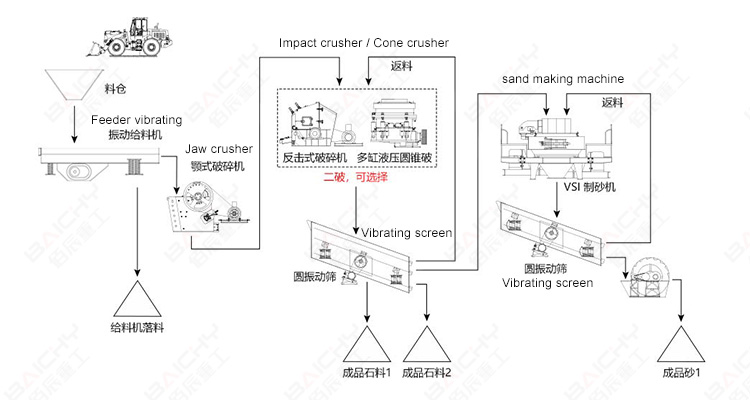 Vibrating feeder + jaw crusher + cone crusher + sand-making machine + vibrating screen + sand washer = finished material
This program is suitable for high-hardness rocks such as pebbles, granites, and quartzites. The material is coarsely crushed by the jaw crusher, finely crushed by the cone crusher, and shaped and crushed by the sand-making machine to obtain qualified finished sand and gravel.
We can visually see that the difference is in the crusher. So what is the difference between jaw crushers, cone crushers, and crushers? Why should they be matched in this way? Let us understand these three devices together.
Jaw Crusher
The jaw crusher can be used to crush more than 200 kinds of soft and hard stones below 1200 mm. The V-shaped deep cavity without dead angle, high wear-resistant materials, and advanced manufacturing technology make the jaw crusher play an important role in the production line. The maximum production capacity of a single jaw crusher can reach 1200t/h.
The cone crusher is suitable for medium and fine crushing of various materials with a particle size of less than 560mm and above and can be processed into finished products of different specifications such as 10-20mm, 20-31.5mm, 40-60mm, and 60-80mm. Due to the cavity design of the shelf crusher of the cone crusher, the finished product has uniform particle size, good particle size, and low energy consumption. Its unique hydraulic protection device can effectively reduce the damage to the equipment when the phenomenon of iron overshoot occurs.
Raw material: pebbles
Production capacity: 150t/h
Equipment configuration: vibrating feeder ZSW4900x1100, jaw crusher PE-750x1060, cone crusher HPC300, sand-making machine VSI9526, circular vibrating screen 4YK2460, circular vibrating screen 3YK1854, electric control system, belt conveyor.
| | | | | |
| --- | --- | --- | --- | --- |
| Name | Model | Max feed size(mm) | Capacity(t/h) | Motor Power(kw) |
| Feeder vibrating | ZSW4900x1100 | 1000 | 280-500 | 15 |
| Jaw Crusher | PE-750x1060 | 630 | 110-380 | 110 |
| Cone Crusher | HPC300 | 210 | 190-380 | 180-250 |
| Sand Making Machine | VSI9526 | 45 | 150-190 | 264-320 |
| Vibrating Screen | 4YK2460 | 400 | 150-850 | 37 |
| Vibrating Screen | 3YK1854 | 400 | 56-330 | 18.5 |
Design Basis: Pebbles with high hardness and small to medium size. The sand production line adopts a jaw crusher for coarse crushing and moderate crushing of pebbles. The crushed material is transported by the belt conveyor to the cone crusher for fine crushing. After the pebble reaches the standard, it will be sent to the sand-making machine for sand-making.