The main requirement of the customer is to use the loader to transport the coal raw material from the coal raw material storage to the silo. The silo is equipped with grate bars, and the gap size is 100mm. The size of the material on the top of the sieve is greater than 100mm. It enters the jaw crusher to crush the coal to a particle size of -100mm. Then the crushed material after the jaw crusher is mixed with the material under the grate bar sieve, starting from here, 0-100mm coal enters the vibrating screen for screening to produce 3 sizes, 0-16mm, 16-30mm, 30-100mm. Grade 30-100mm is sent from the vibrating screen to the warehouse by belt conveyor (mixed with ordinary coal and sold to consumers) 16-30mm is transported as fuel to the fuel warehouse next to the boiler, and 0-16mm is transported to the screening warehouse.
The comprehensive production capacity is 280T/hour, and the theoretical output of 16-30mm is 51.8T/hour, which meets the requirement of a boiler fuel guarantee of 60,000 tons per year.
According to the requirements of customers, Baichen Heavy Industry has made corresponding design plans, as follows: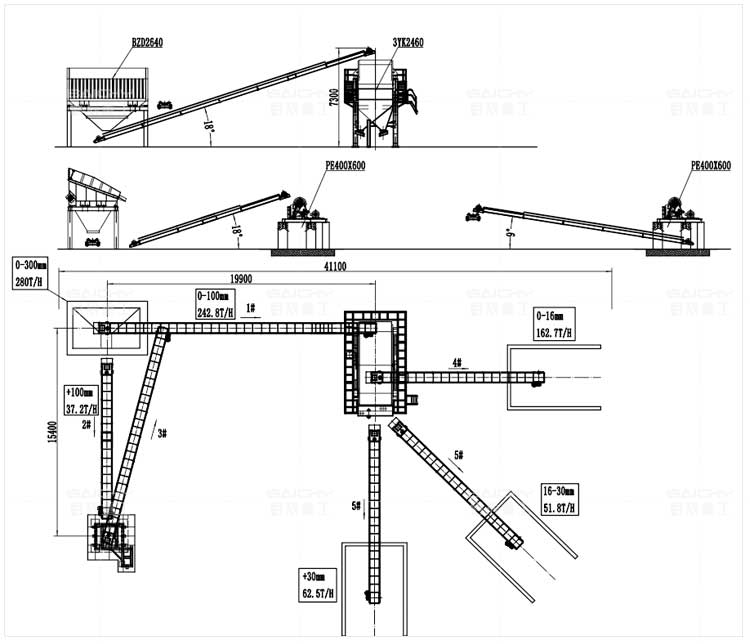 In the large-scale transfer silo BZD2640, the material larger than 100mm on the grate is transported to the pe400x600 jaw crusher by the B650 belt conveyor for crushing, and the crushed belt is transported by the B650 belt conveyor to the 1# belt conveyor B1000 for mixing It is transported to the 3yk2460 sieve for screening, and finally, the finished products of 0-16mm, 16-30mm and 30mm are obtained.
Related Recommendations: 250-500 tph Stone crushing plant