A flotation machine refers to the equipment that completes the flotation process. Baichy has two types of flotation machines. They are the SF series flotation machine and the XJK series flotation machine.
A flotation machine is applicable for separating non-ferrous metal, black metal, noble metal, non-metal mineral, raw body, and materials of the chemical industry. It can be used in roughing, scavenging, selection, or reverse flotation.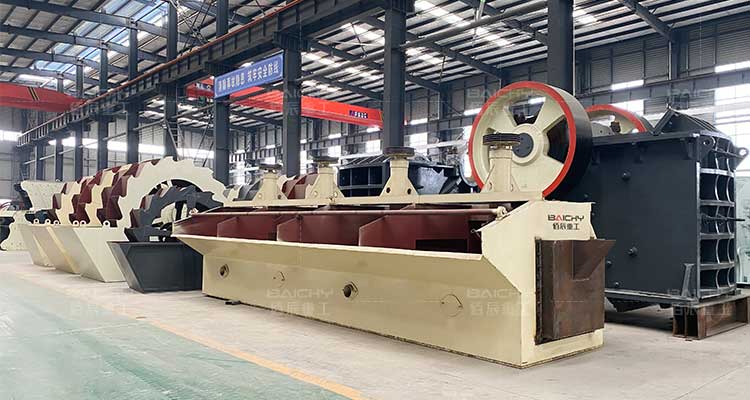 A flotation machine can be used for many ores' beneficiation. It is subject to coarse separation, swept separation, fine separation, and flotation, so the useful ore is reclaimed.
The flotation machine is mainly composed of the flotation cell, mixing device, aeration device, mineralized foam discharging device, motor, and so on.
When the flotation machine works, the motor drives the impeller to revolve, so the centrifugal effect and negative pressure are produced. On one hand, ample air is absorbed and mixed with mineral slurry, on the other hand, the mixed mineral slurry is mingled with additive, meanwhile, the foams are thinning, the mineral is bounded with foams, and floats up to the surface of mineral, slurry and the mineralized foam is formed. The liquid surface can be adjusted with the height of the adjustment flash-board so that the useful foams are scraped with a squeegee.
Features of Flotation machine:
1. Large in hailing capacity and low consumption.
2. Complete flotation circuit within hailing air and slurry, no auxiliary are needed.
3. Reasonable circulation of slurry decreased coarse sand sedimentation.
4. Automatic controlling device makes adjustment more convenient.