Double roller crushers also are called double-toothed roller crushers. The double roller crusher is a machine that uses the frictional force of the roller surface to bite the material into the crushing area so that it can be crushed by extrusion or splitting. When used for coarse crushing or need to increase the crushing ratio, teeth or grooves are often made on the roller surface to increase the splitting effect.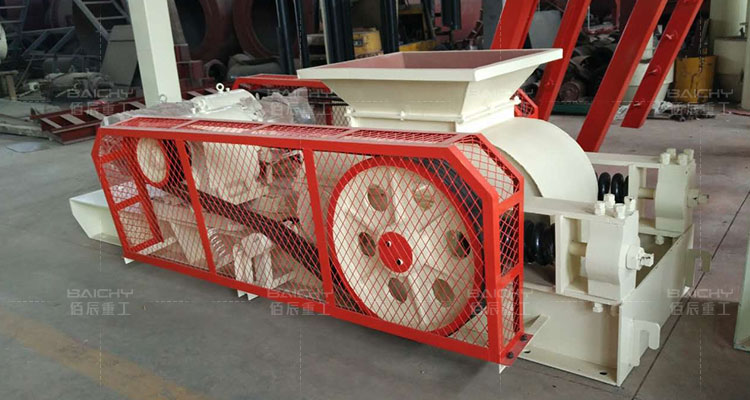 The double roller crusher can crush coarse, medium, and fine materials whose compressive strength does not exceed 350MPa, such as river pebble, granite, basalt, iron ore, shale, limestone, and coal gangue, quartz stone, diabase, marble, copper ore, etc. It is suitable for coarse and intermediate crushing of brittle block materials in cement, chemical, electric power, mining, metallurgy, building materials, refractory materials, coal mines, and other industries.
Double roller crusher working principle: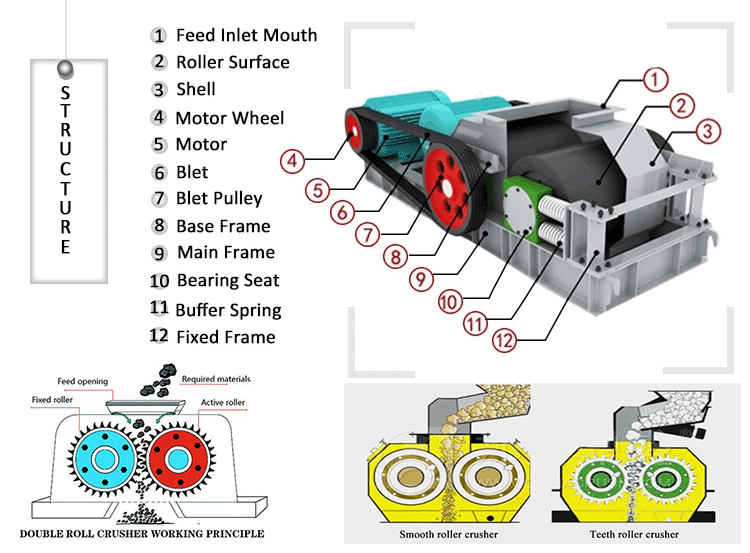 The materials to be crushed fall from the feeding mouth to the space between the two rolls. After being squeezed and crushed, the final products will naturally fall. When there are too hard materials or materials that cannot be crushed, the rolls of the roller crusher will automatically withdraw under the effect of a hydraulic cylinder or spring to increase the gap between the rolls, and the too hard materials or the materials that cannot be crushed will fall down. Thus protecting the machine from being damaged. There is a certain gap between the two rolls that rotate in the opposite direction, and the maximum discharging granularity of the final products can be controlled by changing this gap. Double roller crusher's materials by relying on the two round rollers rotating in the opposite direction, and a four-roll crusher crushes the materials by relying on the two pairs of round rollers rotating in the opposite direction.
Product features: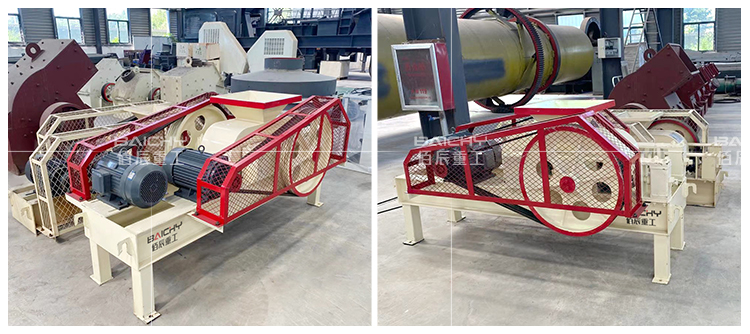 Baichy Machinery has many years of experience in the production of double roller crushers and produces various types of double roller crushers, which still play an important role in various industries. Compared with similar products, Baichy's double roller crusher has the following advantages:
1. Baichy's double roller crusher is perfectly matched with the grinding system, which greatly increases the output and reduces energy consumption.
2. A good sealing system, equipped with a dust-proof plate inside, can effectively avoid dust damage to the machine.
3. A more wear-resistant lining plate, the lining plate is not easy to be damage, and the service life is longer.
4. Efficient protective device effectively avoids damage to the machine caused by unbreakable materials.
5. The crushing teeth are stronger and can crush difficult-to-break materials.