Vertical roller mill is a new type of advanced pulverizing equipment with good performance and drying function. It integrates crushing, grinding, powder selection, drying, and conveying. A vertical roller mill can be widely used in cement, electric power, metallurgy, chemical, non-metallic minerals, and other industries. It has become the mainstream equipment in the milling industry.
The vertical roller mill can crush various materials, such as limestone, calcite, dolomite, petroleum coal, gypsum, barite, marble, talc, coal powder, etc.
Working Principle:
The vertical rolling mill has two pairs of grinding rollers. Each pair of the roller is composed of two narrow rollers mounted on the same axis and can rotate at different speeds. The motor driving reducer makes the grinding plate rotate. The raw material is sent to the center of the rotating grinding plate by the locking air feeding equipment. Under the action of centrifugal force, the material moves to the surrounding area of the grinding plate and enters the grinding roller slide. Under the action of roller pressure, the material is crushed by extrusion, grinding, and shearing. At the same time, the ground material is flowed by hot air upward from the wind ring. The coarse granularity will be back to the mill to regrind and suspended material will be dried. Fine powder following hot air is taken to the classifier system. Qualified powder enters the powder collector with airflow as finished products. Unqualified powder falls to be reground with new feeding material together. This cycle is continuous to complete the whole grinding process.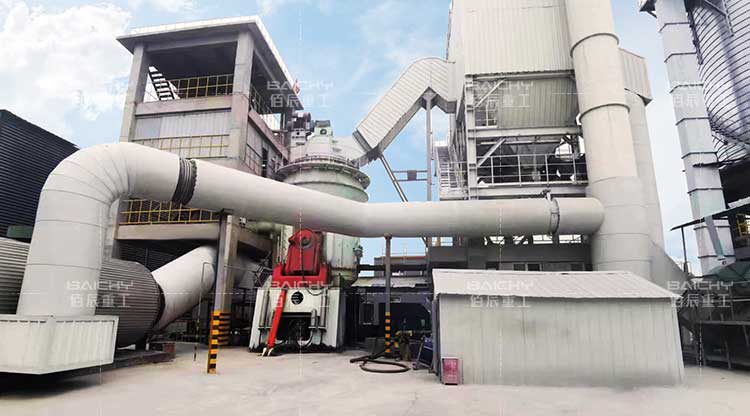 Product Features:
1. Environment-friendly. Perfect sealing and negative pressure guarantee no air pollution in the workshop.
2. Stable Performance. Combination of crushing, drying, grinding, and conveying simple process flow.
3. Quality Assurance. The hydraulic device makes maintenance more convenient.
4. Optimal Design. Reasonable and compact layout, lower foundation cost, and workshop cost in the field.