PCX series Fine crusher combines the advantages of the third-generation fine crushing sand making machine, hammer crusher, impact crusher and impact sand-making machine. It is a fine crushing sand-making machine with a large feeding particle size and small discharging particle size. The crushing cavity is a screening cavity with grate slits. The special hammer for fine crushing developed by our company has achieved a breakthrough in "fine crushing in the field of crushing" and realized the low-cost operation of the fine crushing machine.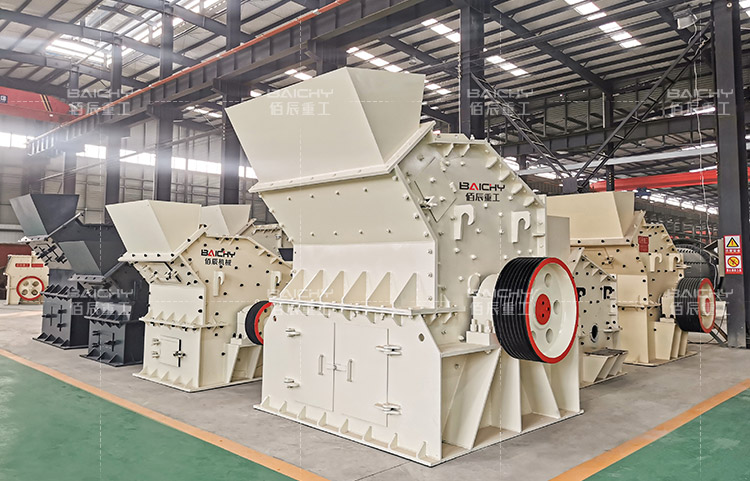 Fine crusher can be used in many situations:
1. Artificial sand production of pebble, mountain stone (limestone, granite, basalt, diabase, andesite, etc.), and ore tailings.
2. Construction aggregate, highway fabric, cushion material, asphalt concrete, and cement concrete aggregate production.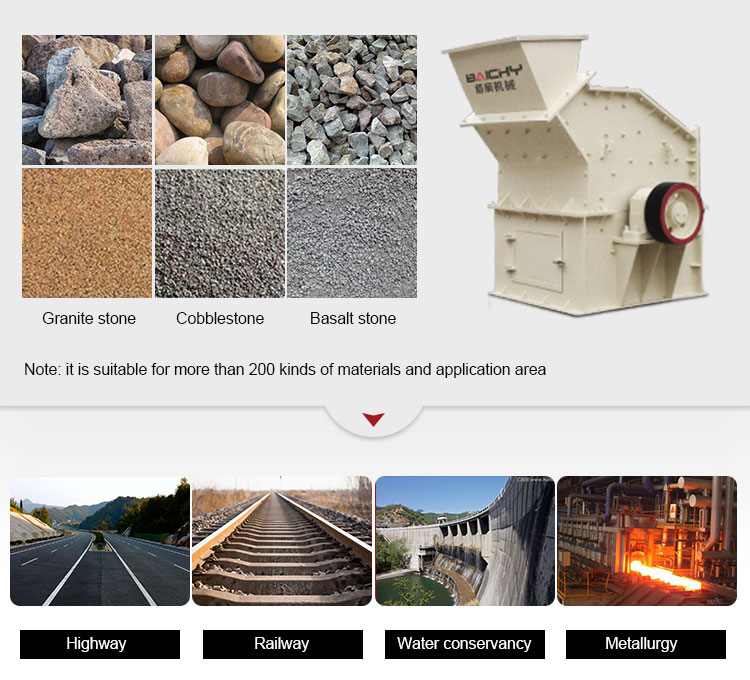 3. In the field of engineering, water conservancy, hydropower, high-grade highway, expressway, high-speed railway, passenger dedicated line, bridge, airport, runway, municipal engineering, high-rise building, sand production, and stone material shaping.
4. In the field of mining, the grinding process of the front segment, building materials, metallurgy, chemical industry, mines, refractory materials, cement abrasives, and other industries of material crushing.
5. High abrasive and secondary disintegration and crushing, desulfurization in thermal metallurgy industry, steel slag, construction waste crushing, and other environmental protection projects.
6. Production of glass, quartz sand, and other high purity materials.
Fine crusher internal structure and working principle:
The fine crusher is composed of a feeding port, impact plate, bearing, lining plate, hammerhead, and casing.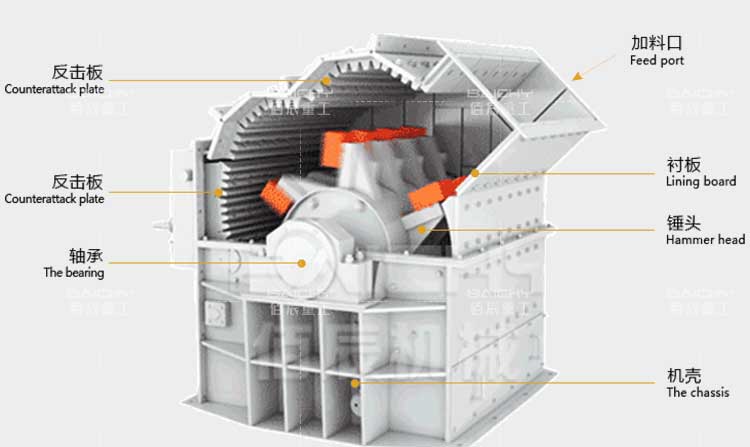 The material enters the cavity and falls on the high-speed rotating movable hammerhead. After the action between the hammer and the counterattack plate, the material is initially broken in the hammering area. After the material is repeatedly hammered and counterattacked with high frequency, it falls on the middle partition plate, forms accumulation, slips down, falls on the throwing plate of the high-speed rotating lower rotor, and is thrown to the counterattack plate at high speed to collide and fall. And it is forced to counterattack, crush and grind through the mobile blow hammer. Therefore, the material undergoes multiple composite crushing and scouring grinding in the process of its own weight falling, so as to achieve the effect of fine crushing.
Fine crusher features
1. The feeding size is large, from 120mm-200mm.
2. The discharge particle size is small and the yield is high, and the yield of one-time yield below 5mm can reach more than 90%.
3. Even particle size, higher output, more durable plate hammer.
4. Lower motor power. No need for the thirdly crushing.
5. Simple structure, easy maintenance, and stable running.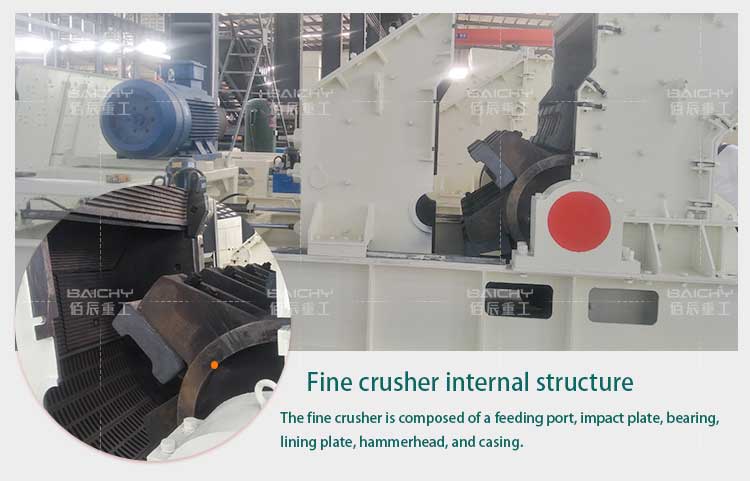 Fine crusher manufacturers recommend
Baichy Heavy Industry has been committed to the production of marble crushing equipment for more than 30 years. It not only has very rich production experience but also has advanced production technology and complete production facilities. Baichy Machinery regards quality as its life and selects high-quality raw materials. The quality of the marble crushing equipment produced by Hongxing Machinery has passed the international quality system certification and has been unanimously recognized by the majority of users.
Not only that, the marble crushing equipment produced by Hongxing Machinery is very affordable, which can greatly reduce the user's investment in production. If users need or want to know more about their equipment, they can call Baichen Heavy Industry's free consultation hotline at any time. 8615093222637, we will serve every user attentively, and according to the actual production needs of the user, give the user a more reasonable and preferential price.
Website : https://www.baichychina.com