A jaw crusher is common crushing equipment in mine crushing production. It is well received by customers for its simple structure and reliable operation. It can meet the crushing processing of various materials, and there are various models for you to choose from.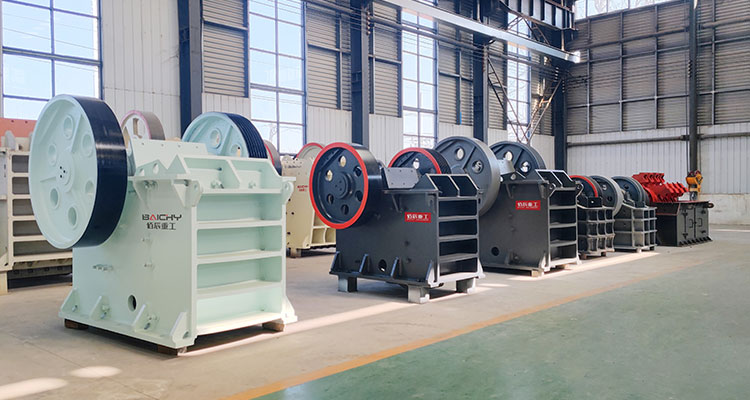 PE600X900 Jaw crusher technical parameters
| | | | | | | |
| --- | --- | --- | --- | --- | --- | --- |
| Model | Feeder size(mm) | Max,feeding size(mm) | Output size(mm) | Capacity(t/h) | Motor(kw) | Overall Dimesion |
| PE600x900 | 600x900 | 500 | 60-125 | 90-180 | 55 | 2500x2010x2350 |
Applicable materials: basalt, cobblestone, iron ore, limestone, granite, quartz stone, shale, sandstone, river pebbles, bluestone, gypsum, construction waste, etc.
Advantages of Baichy Jaw Crusher
1. Welded frame structure, firm and reliable
High-quality steel plate welded frame, avoiding casting defects, more firm and reliable
2. Flywheel design
Flywheel design, effectively reduce vibration and make the machine run more smoothly
3. The adjustment of the discharge port is quicker and more convenient
Discharge port gasket adjustment, simple, reliable and easy to maintain
4. Deep cavity crushing, high efficiency and energy saving
The crushing cavity is deep and there is no dead zone, which improves the feeding capacity and output. The crushing ratio is large and the product particle size is uniform.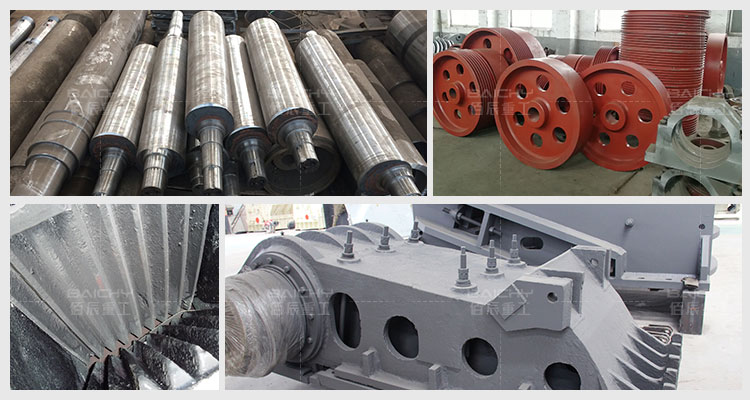 Jaw Crusher Product Introduction
PE600x900
jaw crusher
, 600x900 is jaw crusher inlet width × width: 600mm × 900mm, PE refers to coarse jaw crusher, generally used for primary crushing as coarse crushing, PEX is for fine jaw crusher For secondary crushing as medium-fine crushing.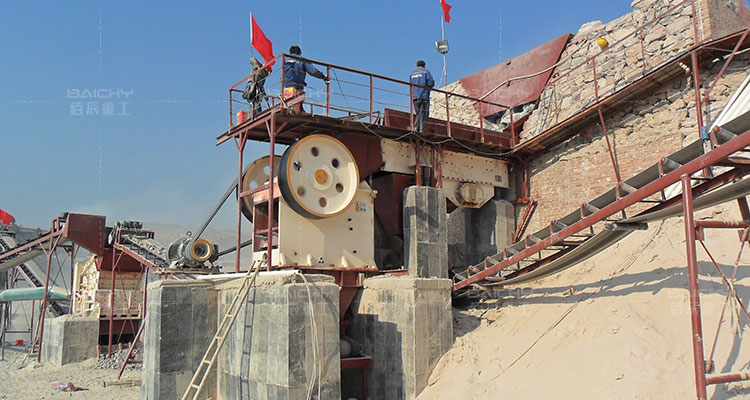 A jaw crusher is early crushing equipment, because of its simple structure, sturdiness, reliable operation, easy maintenance and repair, and relatively low production and construction costs. Therefore, it is still widely used in metallurgy, chemical industry, building materials, electric power, electricity, etc. In industrial sectors such as transportation, it is used for coarse, medium, and fine crushing of various ores and rocks with a compressive strength of 147-245MPa.
In recent years, our factory has specially developed a jaw crusher to meet the needs of crushing high-strength, high-hardness micro-carbon ferrochromium in metallurgy, mining, construction, and other industrial sectors.
Jaw crushers are mainly used for medium-sized crushing of various ores and bulk materials and are widely used in mining, smelting, building materials, highways, railways, water conservancy, and chemical industries. The compressive strength of the crushed material is 320MPa.
Baichy PE jaw crusher, as the first stage crusher, cooperates with the second stage crushing
impact crusher
/cone crusher/
fine crusher
to produce high-quality sand and gravel aggregates through crushing, shaping, screening, washing and other processes. Excellent shape, less needle flake content, favored by builders!
What is the price of PE600x900 jaw crusher?

The market quotation of a jaw crushing equipment is usually around several hundred thousand to one million, and the price varies greatly, because its price is related to the specific type, model, pricing, manufacturer, etc. of the equipment, and the input and output of various types of equipment. There are also differences in various technical parameters such as material, output, motor power, etc., and the achieved results are different, which is also the reason for the different quotations of jaw crushing equipment.
If you want to know the exact price of the equipment, you can consult the customer service staff of Baichy online to obtain it, because there are professionals here to configure the crushing production plan for you, select the appropriate equipment and make a quotation.