Marble is a recrystallized limestone whose main component is CaCO3. Limestone softens under high temperature and pressure and recrystallizes to form marble as the minerals it contains change. Its Mohs hardness is between 2.5 and 5.
Marble has high compressive strength and good physical and chemical properties, and is easy to process. With the development of the economy, the scope of application is expanding, and the dosage is increasing, which plays an important role in people's lives. Some can be used as alkali-resistant materials. The crushed stone and leftover material produced during mining and processing are also commonly used in the production of artificial stone, terrazzo, and stone powder.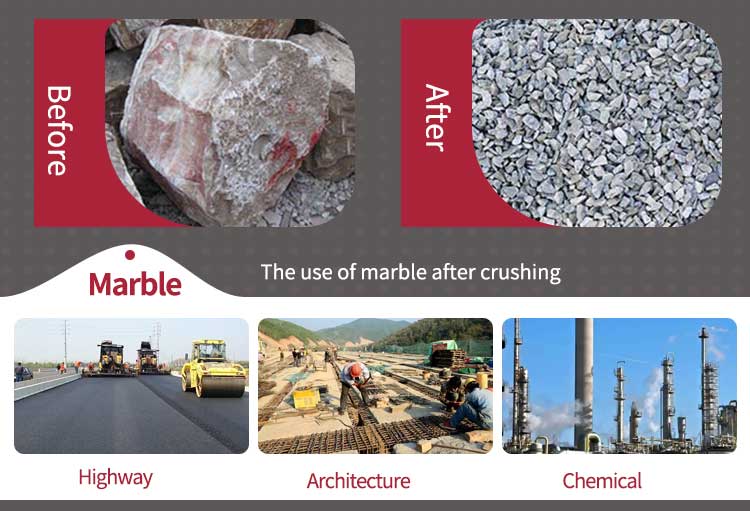 Marble is a medium hardness stone, which is easy to mine and process. The specific equipment required can be selected according to the actual situation, such as feeding, output, discharging, etc. Here we recommend PE jaw crusher, PFW impact crusher, and Spring cone crusher.
Marble Jaw crusher: A jaw crusher is generally used for primary crushing processing. Using the principle of extrusion crushing, it can process ore with compressive strength not higher than 320MPa to medium particle size.

Marble Impact crusher: The impact crusher is generally used for secondary crushing. It is mostly used in sand and gravel yard, mining, coal mining, concrete mixing station, etc. It is widely used in metallurgy, mining, chemical industry, cement, construction, refractory materials and ceramics, and other industrial sectors for medium and fine crushing of medium-hard ores and rocks.

Marble cone crusher: It is mainly used for secondary crushing and tertiary fine crushing and crushing coarse, medium, and fine materials whose compressive strength does not exceed 350MPa, such as granite, basalt, iron ore, marble, etc.

Marble crushing equipment manufacturers recommend
Baichy Heavy Industry has been committed to the production of marble crushing equipment for more than 30 years. It not only has very rich production experience but also has advanced production technology and complete production facilities. Baichy Heavy Industryregards quality as its life and selects high-quality raw materials. The quality of the marble crushing equipment produced by Hongxing Machinery has passed the international quality system certification and has been unanimously recognized by the majority of users.
Not only that, the marble crushing equipment produced by Baichy Heavy Industry is very affordable, which can greatly reduce the user's investment in production. If users need or want to know more about their equipment, they can call Baichy Heavy Industry's free consultation hotline at any time. 8615093222637, we will serve every user attentively, and according to the actual production needs of the user, give the user a more reasonable and preferential price.
Website : https://www.baichychina.com