The VSI Sand making machine is the special equipment for producing construction sand and stone, which saves 50% more energy than traditional sand-making equipment. It can make all kinds of rocks, gravel, and river pebbles into construction sand with various particle sizes. The sand has uniform particle size and high compressive strength.
Compared with natural sand and sand produced by hammer crushers, it meets the requirements of high-standard construction sand.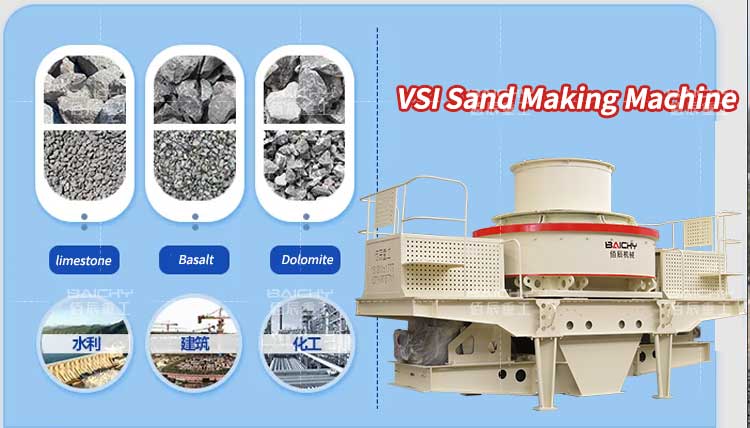 The sand-making production line generally includes a vibrating feeder, jaw crusher, cone crusher, VSI sand making machine, circular vibrating screen, sand washing machine, and fine sand recovery machine.
Sand-making production line advantages:
1. The sand-making rate is high and the product is good.
The sand production line is suitable for large-scale production with a processing capacity of 30-800 t/h. The particle size of the finished product is excellent and meets the national standard.
2. Protect the environment and reduce pollution.
The sand-making production line uses limestone, river pebble, granite, and other ores to make sand, which can not only reduce environmental pollution and protect the environment but also ensure the quality of building concrete aggregates.
3. Low production costs and high returns.
The production cost per ton of finished sand and gravel is only 3/5 of the conventional production line. The investment recovery period is short, and the investment can be recovered in 4-5 months.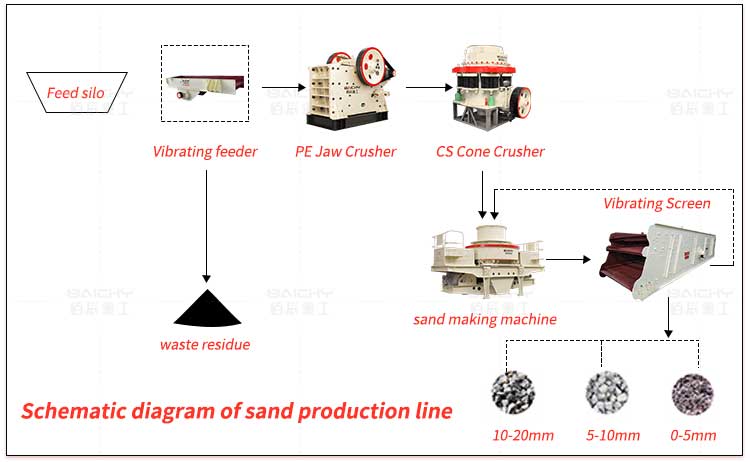 Sand crusher equipment manufacturers recommend
Baichy Heavy Industry has been committed to the production of marble crushing equipment for more than 30 years. It not only has very rich production experience but also has advanced production technology and complete production facilities. Baichy Machinery regards quality as its life and selects high-quality raw materials. The quality of the marble crushing equipment produced by Hongxing Machinery has passed the international quality system certification and has been unanimously recognized by the majority of users.
Not only that, the marble crushing equipment produced by Hongxing Machinery is very affordable, which can greatly reduce the user's investment in production. If users need or want to know more about their equipment, they can call Baichen Heavy Industry's free consultation hotline at any time. 8615093222637, we will serve every user attentively, and according to the actual production needs of the user, give the user a more reasonable and preferential price.
Website : https://www.baichychina.com