Granite is an igneous rock formed by the condensation of magma below the surface. The main components are feldspar and quartz. It is the most common rock. It can be used to build buildings, floor tiles, and can also be made into cement and rock fillings; It is a high-quality building material with uniform structure, hard texture and beautiful color.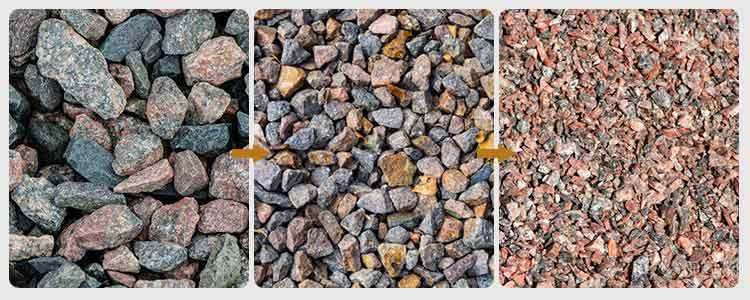 Granite has high hardness and wear resistance
Granite hardness scale

| | | | |
| --- | --- | --- | --- |
| | Moh's hardness | Feldspar content | Quartz stone content |
| Granite | 6~7 | 40%~60% | 20%~40% |
Recommended equipment jaw crusher, impact crusher, cone crusher

Granite jaw crusher: jaw crusher is a kind of primary and secondary crushing operation for various materials with compressive strength below 320 MPa.
The main working principle is to squeeze and crush through the periodic reciprocating motion of the movable jaw plate and the static jaw plate.
Granite impact crusher : The impact crusher is simple in structure, easy to operate, and has a good grain shape. It is especially suitable for crushing materials with medium and low compressive strength. It is ideal crushing equipment for high-quality aggregates required for highway construction and hydropower construction.
Granite cone crusher: Spring cone crusher is suitable for materials with medium or hard hardness, such as iron ore, copper ore, etc.
It has the characteristics of stable structure, convenient adjustment, and economical use.
Baichy Granite Crushing Production Line
The equipment used in the granite production line includes a vibrating feeder, jaw crusher, impact crusher, and vibrating screen; the granite will be evenly fed into the jaw crusher through the vibrating feeder for coarse crushing, and then sent to the impact crusher The vibrating screen can be configured according to customer needs. If three kinds of finished products are required, a two-layer vibrating screen can be configured.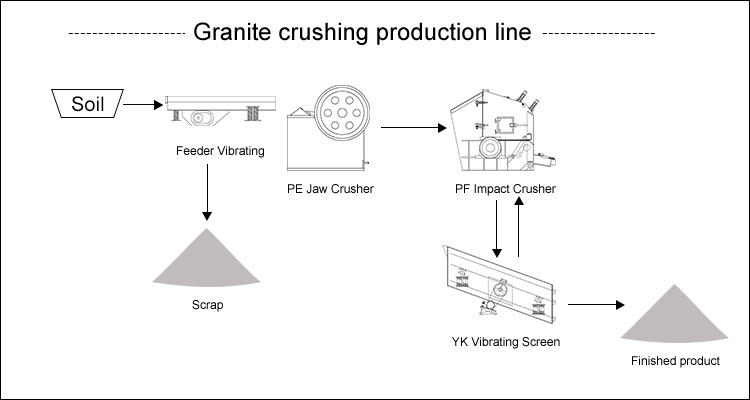 Of course, if ultra-fine-grained crushing is required, VSI sand-making machine can be used to obtain 0-5mm sand.

The granite crushing production line has a high degree of automation, a large crushing ratio, high production efficiency, large processing capacity, and high compressive strength; the equipment is easy to maintain, with low loss and long service life, which can bring considerable economic benefits to customers.