Gypsum can be sorted into many types according to the different physical &chemical properties, such as Natural dihydrate gypsum (it is also called gypsum), and hemihydrate gypsum (the calcined gypsum, namely building gypsum, plaster), mold plaster, floor gypsum, etc. For their special properties, gypsum has wide application in modern industry.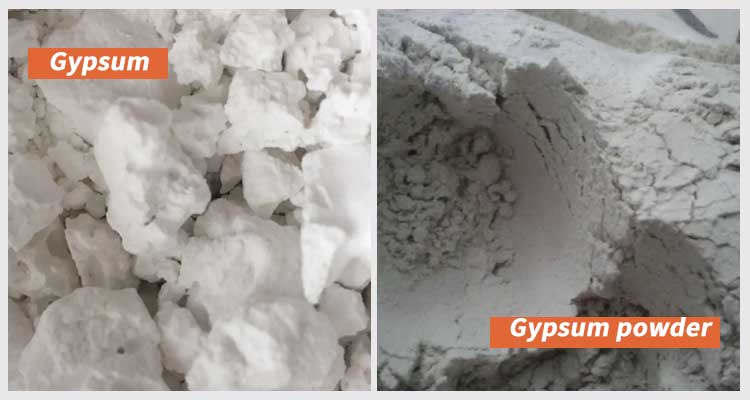 What equipment is included in the Gypsum powder production line?
YGM gypsum powder production line, mainly because it includes processes such as
grinding mill
, crushing, hoisting, milling, conveying, and dust removal.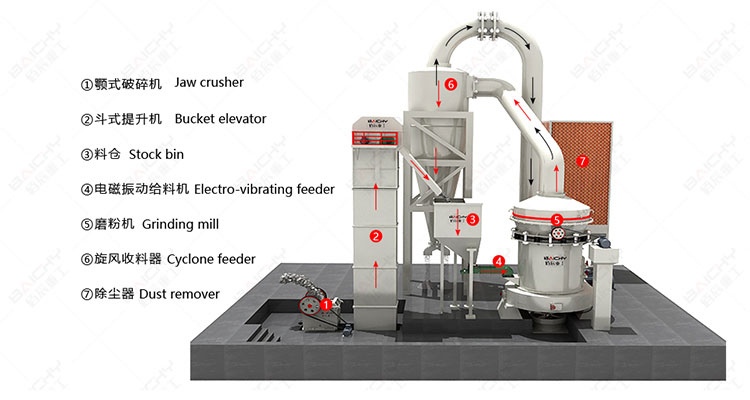 Gypsum powder production line Working principle
After being crushed, large pieces of materials are sent to the storage bin by elevator, and then evenly sent to the main grinding chamber by the electromagnetic vibrating feeder. The materials entering the grinding chamber are scooped up by the shovel and enter between the grinding roller and the ring to be ground. After crushing, the fan blows the wind into the grinding chamber, and the powder is blown into the analyzer for sorting. If the fineness is not reached, it will fall into the grinding chamber again, and the qualified fine powder will enter the finished cyclone powder collector with the airflow. After the fine powder is separated from the air, it is discharged from the discharge port to become the finished product, and the air returns to the fan from the upper air return pipe. The air path is circulated and flows under negative pressure.
Baichy gypsum powder production line can not only process gypsum but also process ultrafine powder of non-flammable and explosive brittle materials with medium and low hardness, Mohs hardness ≤6, such as calcite, chalk, limestone, dolomite, carbon black, kaolin, bentonite, talc, celestite, magnesite, illite, pyrophyllite, vermiculite, sepiolite, attapulgite, rectorite, diatomite, barite, gypsum, alunite, graphite, fluorite, phosphate rock, potash ore, pumice, and more than 100 materials.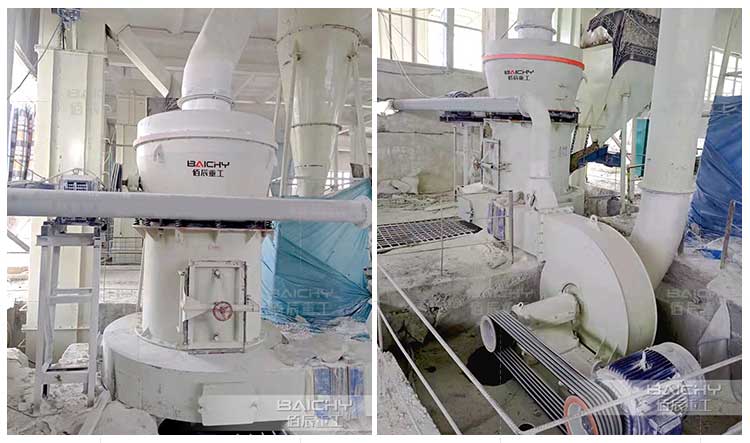 1-30tph Gypsum powder production line
Gypsum powder is also generally used for construction. It has good fire resistance and is a non-combustible material. It can be used as a fireproof layer for steel structures, with the characteristics of warmth and ventilation.
Gypsum powder does not emit waste gas, waste residue, wastewater, and other sundries in the production process, and it is good environmental protection equipment.